Interview tips for
ESL Jobs
Looking for a new teaching job can be a full time job in itself so once you have secured an interview with a good school you will definitely want to make sure you are fully prepared and present yourself in the best possible light.
I've interviewed over a hundred people for teaching jobs over the years and have a good idea of what schools are looking for in a candidate, the kind of questions asked in an interview and advice on what to avoid doing during the interview process. This article will provide plenty of interview tips for ESL teachers, which will help you structure your interview answers.
Obviously it is wise to read up about the company and find out all you can about their schools, teaching methods, course material, requirements and any other details you can. Not only does it show initiative and that you are genuinely interested in the job you are interviewing for but having a good understanding of the company allows you to make a more informed decision on whether that particular school is right for you.
If you are planning on flying halfway across the world to teach somewhere for a year, you want to make sure it's with a school you will enjoy being at. Write down all the questions you want to ask before the interview and have them ready. The interviewer will be expecting you to have plenty to ask so make it as long as you want!
Here's your opportunity to really impress the school. Making a short introduction video will give the employer a good idea about your English ability, teaching style, classroom presence and the command of your voice.
A video introduction is sometimes requested by schools for non-native English speaking candidates but native speakers can also find it very useful especially if you have no teaching experience. Make sure you make a proper script and rehearse before recording your video introduction. Including a short video clip of you inside the classroom actually teaching is also a great way to stand out from the crowd. A big advantage of making a video introduction is you only have to make it once and it can be used for all the jobs you apply for.
Getting ready for a
Skype interview
Most interviews are done via Skype and are usually video calls so make sure you have tested your microphone and headphones, have a webcam ready and a fast internet connection. With Skype you can set your profile picture too so ensure you have a professional one for the interview.
Make sure you have added the schools Skype ID well ahead of time. Often there will be a time difference between the interviewer and candidate so double check that you have the right time, www.timeanddate.com/worldclock/ is a good site to use.
It's definitely worth finding a quiet, well lit place for the interview. Not long ago I interviewed someone who was in a noisy, outdoor internet café with his baby son on his lap and a beer in his hand. The baby was climbing all over him and I couldn't hear half of what he was saying, not the best way to go after a new job. Dress professionally, as you would for a face to face interview, so a shirt and tie for men and smart clothes for women.
Tips for during the
interview
Most interviews with schools will last from 45 – 90 minutes and usually start with some small talk. The interview will usually be spilt into three sections, beginning with the interviewer asking you questions, then moving on to telling you about the job, school and city and finally answering any questions you have.
Generally the interviewer will be asking questions related to your previous teaching experience (or if you don't have any yet, then about your TEFL course), your views on teaching, how you would teach specific language or grammar points, classroom management techniques, dealing with discipline issues (especially if you are interviewing for a young learner job), teaching materials you have made, lesson planning as well as questions not related to teaching such as how you work with a team and cultural sensitivity perhaps.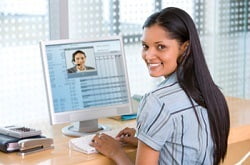 Questions asked in an English teacher job interview
Interview questions for experienced

teachers
Can you tell me more about your experience at (previous schools)?
What further training have you received? (workshops, seminars etc)
How do you deal with difficult students?
Are there any specific areas of your teaching you have been working on?
How do you motivate students?
What courses books have you used? Any preferences?
What is a good activity you have used recently?
What kind of feedback have you got from observed lessons?
Talk me through a lesson that went well
How would you teach the present perfect?
What are your goals for the future for your teaching?
How do you teach large group sizes?
Have you used interactive white boards before?
How do you feel about having an "English only" rule in the classrooms?
Language schools often use the 'communicative approach', what do you understand by that?
What are the main differences in the approach needed to teach young learners versus adults?
What are the main roles of a teacher?
What are the keys to effective learning?
What classroom management techniques do you use ensure your classes run smoothly?
What makes a good lesson plan?
Interview questions for recent TEFL course

graduates
What did the TEFL course cover?
What did you find most interesting?
What did you find most challenging?
What was the most useful feedback you got from your tutor?
Did you make any of your own materials?
Which areas do you still need to improve on?
Demo teaching tips
Sometimes schools will ask you to plan a 20 minute demo class to teach during the interview. You will have had time to prepare the demo class beforehand.
Ideal qualities the school is looking for in a candidate
Don't expect the interview to be overly formal, the school will be looking to get to know you and find out whether you would be a good fit at the school. The kind of qualities they will be looking for are of course a genuine enthusiasm and passion for the job and plenty of energy especially if the job is for teaching young learners.
Be clear about your reasons for wanting to live and teach abroad and make sure you can show that you will be able to cope with the challenges. Reliability and professionalism are important as is the ability to be flexible, open minded and culturally aware.
The chance for you to ask questions in the interview
The interview is of course a chance for you to ask all the questions that you have and to really find out if it's the right school for you. These will be both teaching and non-teaching related questions. Don't be afraid to ask about the contract, compensation package as well as general questions about the city and way of life. Some of the common questions to ask in a teacher interview are listed below:
About the job and school
Can you describe for me what a week at work would be like?
What are the teaching resources like?
How many classes are taught per week?
How would you describe the atmosphere in the teacher's office?
Can you tell me a bit about my future students? What do they expect from their new teacher?
How long are the classes and how many students in each class?
Are teaching assistants available?
What's the technology like? Does your school have interactive white boards?
How much flexibility are teachers given on how they teach?
Are there any off-site classes or are they all taught in the school?
About the teacher's accommodation
Is accommodation provided?
Is it furnished?
Am I responsible for paying the bills?
Will I be sharing with another teacher?
Do I have the option of getting my own housing?
How far is it from the school?
You might also want to ask about flight allowances, bonuses, appraisals, training, admin duties, promotion opportunities and the visa application process.
About the city
What do the teachers like to do in their free-time?
Can you tell me a little bit about the expat community in your location?
What is the population?
Are there sports facilities / gym / supermarket near the school?
What kind of entertainment is there?
What are my options for learning Chinese?
What is the cost of living like?
Are there any products not available that I should bring with me?
It is also often a good idea to ask for the email address or Skype ID of one or two current teachers at the school to ask them about the day to day life of a teacher there. Most schools will have no problem arranging for you to speak with them and it is an excellent way to get an insight into the work life.
Common mistakes when applying for a teaching job abroad
"The biggest mistake I've seen is the choice of location for a Skype interview. The nature of this industry requires telephone or conference call interviews, usually across great distances. If you schedule an interview with a company make sure the time is correct (and be certain of the time difference!) but most importantly make sure, when the time comes, that you are in a quiet place with a stable internet connection. Interviewing from a busy Starbucks can turn into a disaster!"
"Not revising the CV to be relevant to the role that you're looking for. There are likely to be soft skills from your old job that are relevant to the role, but many aspects of a previous job won't be. Provide an updated CV that relates directly to the job you want – not one that sets out pages of unrelated work in accountancy or biological science. If you're changing career – then explain why teaching is your new choice in the covering letter. Make the covering letter short and consider writing one specifically for each job – not a generic "To Whom it May Concern".
"Often candidates don't think of the big picture. If you are applying for a more senior or management role think of what is needed from other departments. What sales or service tasks might be needed? This is often very important with language schools. "
After the interview you can expect to hear from the school with a final result within 3 working days. The school may well be talking to a few other candidates but usually like to get a job offer out quickly to candidates they want to hire. A job offer will be sent via email and sometimes you will be given a deadline on when they expect an answer.
Schools will usually send a sample contract along with the attachments (disciplinary procedure, accommodation policy, insurance policy etc) for you to have a read over however it is common in China for the teacher to not actually sign the contract until they arrive at the school and begin work. Sometimes schools will ask you to sign a "Letter of Intent" (LOI) which is in place of a contract and states that you have accepted the job and intend to teach at their school.
For teachers who are looking to develop their careers in education there are plenty of options for progression. From teacher, the next step is senior teacher where you assist new teachers and get involved with some school management tasks. Then Director Studies which involves managing the academic side of the school, teacher training, scheduling, recruitment of new teachers. There are also positions for developing curriculum and course materials and teacher training. Many career teachers enjoy living in different countries and experiencing different cultures throughout their career.
Once a job has been offered and accepted the school will begin the visa application process, which can take between 3 to 6 weeks. Once the visa is in your passport, the adventure begins and you can book your flight ticket.
So for the ESL job interview, remember to be well prepared and relaxed. It is a chance for you to really show why you are the right person for the job, let your personality shine through and ask plenty of questions. If all goes well you will have a handful of offers and be in the position to pick and choose the very best job.
ESL Job Board
Hundreds of teaching jobs in China, fully screened, updated daily.
In my time at York English and at other ESL schools I worked with dozens and dozens of ESL teachers, helping to train them and give guidance on [...]
Have you ever wondered how important your resume is in finding a job? Having a solid resume is absolutely essential to get past the first screening process and land you an interview [...]
Looking for job is stressful. Flying to the other side of the world to start a new job in a new country where you don't speak the language can be significantly more [...]