Teach Business English Students
Teaching business English students, also known as corporate language training, requires both English teaching and business knowledge. Students are typically young professionals aged 20 to 35 and are well educated with a real motivation for learning and clear goals in mind. They recognise business English as an essential skill for communicating with the world and for their career development.
Levels range from beginner right through to advanced and all students are clearly placement tested to ensure they are studying alongside students of the same abilities. You will be teaching all 4 skills, covering areas such as delivering presentations, participating in meetings, report writing, emailing and taking part in business conferences calls.
Course Material
There are plenty of excellent course materials for teaching business English on the market, such as Market Leader and Pearson products and it is often necessary for the teacher to tailor the course and material according to the class being taught. Popular industries include international trade, hospitality and the IT sector for example, with each one having it's own unique needs when it comes to what to teach.
Often schools will have PowerPoint slides and interactive white boards in the classroom with digital material to be used in class. It is common for business students to have an online component to their course, which they study on their own and then practice what they have learnt in class.
Class size
Class sizes for teaching business English students are generally smaller than young learner classes. 1-on-1 classes are quite common as are small groups of up to 6 students. This allows much higher student talk time and for the teacher to really get to know the students' learning styles. Classes can also be larger especially if a company have enrolled a department of 20 to 30 students on a business English course, in which case the teacher needs to deliver a more presentation style class while making sure there is a lot of pair and group work to give students the opportunity to practice speaking.
Featured Business English 
Jobs in China
With over 10 years experience in the ESL industry in China, we put teachers in contact with the very best public and private schools across China.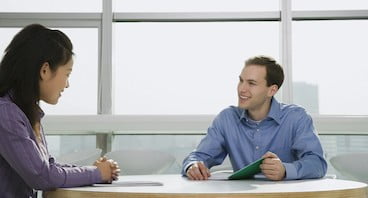 Teach Business English Students in Beijing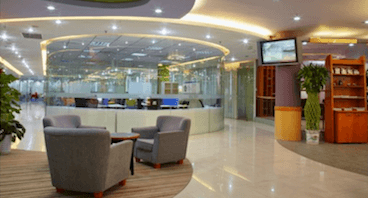 Business English teaching jobs in Taipei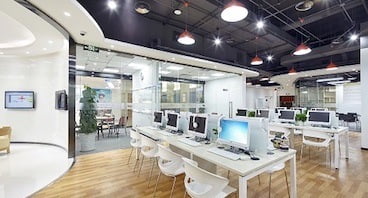 Business teaching jobs across China
ESL Job Board
Hundreds of teaching jobs in China, fully screened, updated daily.
Is an ESL job teaching business English 
right for you?
Business English students are motivated to learn and realize the importance of the English language for their professional growth. The material being taught also directly helps them perform their job better so it is appreciated and there will not be any discipline issues, like you can get when teaching young learners.
Classes can be held either at the school where you work or at the company offices where the students work, in which case the teacher will have to travel there for class. Classes can either be scheduled during the students' working time or, what is more likely, be run as weekday evening classes and weekend classes, so this is something to consider when deciding whether or not you want to teach business English students.

Salary & Benefits for 
teaching business English in China
Excellent salary: 12,000 – 25,000 RMB (1,700 – 3,700 USD) per month
Accommodation provided: Western style, furnished, on campus
Flight allowance
Performance based bonuses
Legal 'Z' work visa and residence permits provided
11 days national Chinese public holidays plus 10 days personal holiday
Health insurance
TEFL course provided (if you don't have one)
Weekly Mandarin Chinese lessons
Airport pickup and welcome pack
On-going training and academic support
Promotion opportunities
This is an example of a typical salary package for jobs teaching business English students ESL in China. We will provide you with specific package information for a selection of suitable schools once we receive your application.
Requirements for ESL jobs teaching business English students in China
Native English speaker or non-native with fluent English and a clear accent
Bachelor's degree in any subject
TEFL certificate preferred (No TEFL? We recommend INTESOL)
Previous business & teaching experience preferred
Between 23 and 55 years old
A Typical Week
Teaching English to Business English Students
The typical week teaching business English students is quite different from regular schools as classes are mostly held when students aren't working and so classes take place during weekday evenings and on weekends. The teacher will usually have Monday and Tuesday as days off and will come to the school at around 3pm on Wednesday, Thursday and Friday to plan lessons and get materials ready. Classes during the week start at 5pm and run for 1 hour. There will then be a 15 minute break before another 1 hour class. Teachers may also be required to travel off-site to the students' office for classes. Weekends are the busiest times of the week with classes running from 9am to 6pm with breaks between classes and for lunch. There will usually be a weekly teachers meeting and teacher training session.
During the class, the teacher will introduce new language in a controlled setting, giving examples, drilling and eliciting suitable alternatives. Students will then practice with some activities in the course book and then in small groups, with the teacher monitoring and correcting, after which less controlled production of the language will begin through pair work and group work. You will be teaching all 4 skills, covering areas such as delivering presentations, participating in meetings, report writing, emailing and taking part in business conferences calls.
ESL Job Board
Hundreds of teaching jobs in China, fully screened, updated daily.
Questions about ESL jobs teaching business English students? Ask us!