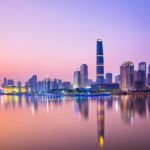 Kindergarten
Program Highlights
-Excellent monthly salary: 15,000 to 30,000 RMB (approx. 2,300 – 4,600 USD) depending on qualifications, experience and location
-2 months summer & 1 month winter vacation
-Teach at modern kindergarten with cutting edge resources
ESL Jobs in Shanghai, Beijing, Guangzhou, Shenzhen, Hangzhou, Wuhan,  Chongqing and other major cities
We are now holding interviews for qualified English teachers to teach at our kindergartens in the vibrant cities of Shenzhen, Guangzhou and Chongqing in China. Our students are aged from 2 to 6 years old and we warmly welcome teachers who thrive on inspiring young English learners to join our creative team.
We pride ourselves on offering the highest educational standards. Our classes encourage children to explore, participate and cooperate in a caring and supportive kindergarten. Teachers will be teaching a maximum of 25 hours per week and participate in student's activities for most of the day. Class size ranges from 20 to 30 students and you will make use of a variety of engaging teaching materials and methods including group work, music, activities, performances, art projects and much more. Communicating with parents to provide feedback periodically will also be one of the responsibilities.
We value the unique developmental process and inherent potential in each child. By educating with us, children are enriched with a broad set of abilities and responsibilities, including independence, problem solving skills, creative thinking, love and caring mindset, and a sense of responsibility.
Teach English in Shenzhen
Shenzhen is located in the southern portion of the Guangdong Province, on the eastern shore of the Pearl River Delta. Neighboring the Pearl River Delta and Hong Kong (located just south of Shenzhen), Shenzhen's location gives it a geographical advantage for economic development. Shenzhen is considered as one of the richest cities in the country which offers foreigners a great insight into contemporary China. From a small fishing village 30 years ago, Shenzhen has turned into a city filled with dynamic energy and on its way to becoming a world-class metropolis.
Teach English in Guangzhou
Guangzhou, a prosperous metropolis full of vigor, is the capital city of Guangdong province located along the south coastline of China. Being an excellent port on the Pearl River navigable to the South China Sea, and with fast accessibility to Hong Kong and Macau, Guangzhou serves as the political, economic, scientific, educational and cultural center in the Guangdong area. Guangzhou is considered as the paradise for food-lovers in south China. Explore a modern, developing city with an exciting mix of restaurants, bars, shopping as well as tradition elements.
Teach English in Chongqing
Chongqing is situated on the upper reaches of the Yangtze river in Sichuan province in the west of China, not far from Tibet. It is a large and fast changing city, known as "Mountain City", spread around a mountain, you will be always walking either up or down. It really is a city of changes, mixing modern development with local traditions and small local neighbourhoods. Chongqing is endowed with rich natural scenery, boasting mountains, rivers, forests springs, waterfalls, gorges and caves. Chongqing is especially well known for its food. People love to eat here and you will find thousands of restaurants featuring all kinds of delicious dishes to feast on. Most famous if the spicy hot pot.
Main Responsibilities
-Maximum of 25 teaching hours per week with weekends off
-Maximum of 40 working hours per week (Monday to Friday, 8am to 5pm)
-Student age: 2 to 6
-Class size: 20 to 30
-Plan and implement lessons that are developmentally appropriate
-Participate in parent meetings and training sessions
-Perform additional duties as assigned by the principal
Compensation
-Excellent monthly salary: 20,000 to 30,000 RMB (approx. 3,000 – 4,600 USD) for teachers already in China, depending on qualifications and experience
-Excellent monthly salary: 15,000 to 18,000 RMB (approx. 2,300 – 2,800 USD) for teachers outside China, depending on qualifications and experience
-Support with finding an apartment to rent
-Up to 5 days free hotel stay provided upon arrival on provision of receipt
-Flight allowance: 6,000 RMB annually (free upfront flight tickets for fresh graduates)
-11 Chinese public holidays + 1 month winter (half pay) & 2 months summer (no pay) vacation
-Legal 'Z' work visa provided (reimbursement up to 5,000 RMB)
-Medical and accident insurance provided
-Contract renewal bonus: 5,000 RMB
-Airport pickup
-Pre-training provided: orientation, Chinese culture, Mandarin class, teaching methodology
-On-going training and academic support
-Career development opportunities in teaching, course development and regional trainer
Requirements
-Bachelor's degree or above required
-Teaching license / TEFL / CELTA certificate
-Previous teaching experience with young learners preferred
-Native English speaker from UK, USA, Canada, Australia, New Zealand, Ireland & South Africa
-Good knowledge of young learner educational theory preferred
-Cultural sensitivity, awareness, and willingness to explore other cultures
There are no costs whatsoever for the entire recruitment process.
We are looking forward to hearing from you.