Teach in a Language School
ESL teaching jobs at language schools are a great way to teach to a variety of ages, which helps to keep the job interesting and challenging. Most language schools will teach students from age 3 up to adults, with the majority of students in the 7 to 14 range, although some language schools do focus on only young learners or adults. The teaching style is focused on the communicative style of teaching so you will be encouraging students to speak and use the language as much as possible and make sure of a range of activities and interactions such as group work, pair work, storytelling and discussions.
Course Material
Course materials are usually comprehensive with student and teachers books for each age group and level as well as a lot of supplementary materials such as flashcards, posters, audio and video materials, puppets, toys and a lot more. These days language schools boast interactive white boards (smart boards) which open a huge amount of possibilities to what the teacher can include in the lesson and allows the students' to interact with the material being taught like never before.
Class Size
Class sizes at language schools are generally around 10 – 15 students with no mixed level classes, which makes classroom management much easier and allows the teacher to really get to know the students' learning styles and strengths & weaknesses.
Teaching Assistant
Teaching assistants are often available, especially for lower level students who benefit from translation of instructions and some error correction in Chinese, although generally the teacher will be aiming for a total English immersion environment in the class. The teaching assistant will also help with setting up activities and translating to students' parents after class.
Featured Language School 
Jobs in China
With over 10 years experience in the ESL industry in China, we put teachers in contact with the very best public and private schools across China.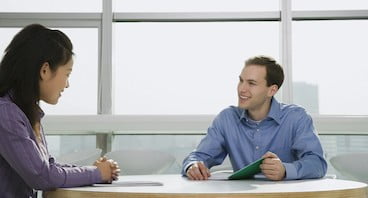 Teach adult students communicative English
Teach young learners at our modern school in Fuzhou
Young learner teaching jobs in Shanghai
ESL Job Board
Hundreds of teaching jobs in China, fully screened, updated daily.
Is a language school teaching job
right for you?
One of the main advantages of getting a teaching job at a language school is the level of support and materials available. You will have a Western Director of Studies running teacher training sessions and class observations as well as looking after you when it comes to the contract and admin side of the job, which will probably not be the case if you are teaching at a public school or kindergarten. You will likely also have more colleagues from native speaking countries, usually about 5 to 10 other teachers, which can make for a more familiar social circle. Whereas, at a public school there may be no other native English teachers.
The typical workweek is the opposite from a regular school so you will be working weekday evenings and weekends, with Monday to Friday day time and afternoons off and usually Monday and Tuesday as your days off. This takes some getting used to but as all your colleagues will be on the same schedule and have the same time off, it works out well.

Darren Ralphs – Shanghai, China
"Teaching in China is great fun on the whole. It seems that there is a culture of it being 'cool' to be the smart kid. Every student wants to be the one who answers the question, writes on the board, cleans the board, even gets the teacher a cup of tea! I wouldn't say that was the case when I was in school in England. By far the most rewarding thing, though, is when you ask a student a question, and not only do they answer perfectly, but they extend their answer with another piece of language you taught them weeks ago. It's just good to know you're doing a good job, and they want to show you that that's the case!"
Salary & Benefits for
Language School Jobs in China
Excellent salary: 11,000 – 24,000 RMB (approx 1,500 – 3,400 USD) per month
Accommodation provided: Western style, furnished, on campus
Flight allowance
Performance based bonuses
Legal 'Z' work visa and residence permits provided
11 days national Chinese public holidays plus 10 days personal holiday
Health insurance
TEFL course provided (if you don't have one)
Weekly Mandarin Chinese lessons
Airport pickup and welcome pack
On-going training and academic support
Promotion opportunities
This is an example of a typical salary package for ESL language school teaching jobs in China. We will provide you with specific package information for a selection of suitable schools once we receive your application.
Requirements to teach at language schools in China
Native English speaker or non-native with fluent English and a clear accent
Bachelor's degree in any subject
TEFL certificate preferred (No TEFL? We recommend INTESOL)
New or experienced teachers welcome (full training provided)
Between 22 and 55 years old
A Typical Week
Teaching English at a Language School
The typical week teaching at a language school is quite different from regular schools as classes are held when students aren't at their regular school or job and so classes take place during weekday evenings and on weekends. The teacher will usually have Monday and Tuesday as days off and will come to the school at around 3pm on Wednesday, Thursday and Friday to plan lessons and get materials ready. Classes during the week start at 5pm and run for 1 hour. There will then be a 15 minute break before another 1 hour class. Weekends are the busiest times of the week with classes running from 9am to 6pm with breaks between classes and for lunch. There will usually be a weekly teachers meeting and teacher training session. Classes run on a semester by semester basis and teachers will have to take part in occasion school events and parties for Halloween and Christmas for example.
During the class, the teacher will introduce new language in a controlled setting, giving examples, drilling and eliciting suitable alternatives. Students will then practice with some activities in the course book and then in small groups, with the teacher monitoring and correcting. Once the students have a good grasp of the target language they will be expected to produce the language in a less restricted setting, with maybe a short presentation, discussion or role play.
ESL Job Board
Hundreds of teaching jobs in China, fully screened, updated daily.
Questions about language school teaching jobs? Ask us!