An Interview with Anna at EF Xuzhou, China
GS: So, can you tell us a bit about how you first got into English teaching?
AR: I volunteered in the Philippines teaching English to primary school children and I really enjoyed it. I also knew I wanted to travel more and have always been interested in China. I did some research and found out that the demand for foreign English teachers in China is very high. What a win-win situation!
GS: Could you give some details about your dealings with Gold Star TEFL Recruitment?

AR: I got in to touch with Gold Star after being scammed by an employer who tried to get me to work on a tourist visa. (This happens a lot in China so be careful). With Gold Star I finally got in to touch with reputable schools and so I finally found my job with EF Xuzhou. Gold Star made the whole process of finding a job very simple for me and I could be assured there would be no dodgy business involved.
GS: What advice do you have for people about the recruitment and interview process when looking for jobs teaching in China?
AR: Like previously mentioned, watch out of dodgy employers who try to make you work on a tourist visa. They might promise you all kinds of things, like "we will get you a work visa just book your plane tickets quickly". If they say that you are being scammed! Working on a tourist visa in China is illegal and get you into trouble. Also you have no rights whatsoever. Do some research, watch out for red flags and only book your tickets once you have a work visa on your passport. Other than that, just relax and be your lovely self.
GS: You are teaching in Xuzhou at the moment, can you tell us about your impressions of the city? What do you like most about living there?
AR: For China it is a middle sized, only just recently more developed city. People are not very used to seeing foreigners, so you get a lot of stares, people yelling "Hello!" And some even want to take pictures of you. I do not feel offended by that because people are mostly very friendly and they are just curious. The majority of locals do not speak any English, which is challenging at times but at the same time it is a great opportunity to learn to speak more Chinese. I like that everything is very cheap here compared to back home, which makes it very easy to make ends meet. And there are always interesting shops, food places and markets to discover, and friendly locals to practice speaking with.
GS: What do you like most about teaching English?
AR: The best thing about teaching English is when you can see that the kids are learning and enjoying themselves at the same time. Learning language doesn't have to be boring! The excitement and happiness of the children is contagious.
GS: Can you tell us about your favourite class at the moment?
AR: All of my classes are children aged 3-6 and I don't really have any favourite class. I like all of them!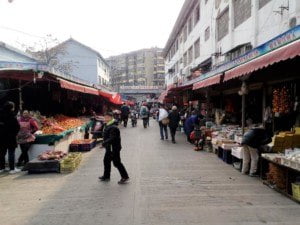 GS: Talk us through a typical day teaching English in China.
AR: On a weekday we come in to the office at around 3pm to plan lessons, sometimes there is a Chinese class or Teachers training also. Then there are 2 to 3 classes in the evening, and the day is finished at 8pm, after which everyone sometimes gets dinner together. Weekdays are very relaxed at EF Xuzhou. Weekends are a lot more busy, classes starting at 8.30 and the last ones finishing at 18.15. There is always a 1.5 hour lunch in between when we all go to eat together.
In the class there is a routine, which includes greetings "Hello, what's your name, how are you" and so on, then revising previous lessons, introducing new language, practicing new language using an interactive whiteboard and then there is bookwork. In every lesson there are a lot of games and songs to make it fun. The routines make it very comfortable for both the teacher and students because then we always know what to expect.
GS: What are the teaching resources like there?
AR: We have a lot of flashcards, real items such as fake fruits and foods, there is an interactive whiteboard in every classroom which is very useful, and also the children have their workbooks and homework books. They also have access to many different language learning games they can play at home.
GS: How many teachers are there in your school?
AR: We have approximately 15 foreign teachers, and a few local teachers. Everyone is very nice we are like a big family.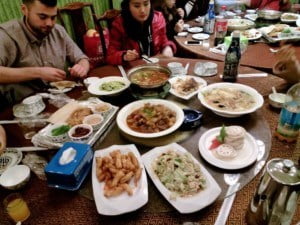 GS: China is full of surprises and unexpected adventures, tell us about one you have had recently.
AR: Almost every day can be an adventure, especially with the language barrier which can sometimes lead to funny situations (at least when thinking about them afterwards). On a few occasions when taking the taxi with workmates we have ended up somewhere completely different than intended! It was annoying when it happened right before an exam, but it was quite funny when it happened on a day off because we actually ended up discovering interesting new places and practice speaking Chinese while asking locals for directions.
The food culture is an adventure on its own for a Westerner. If you sit on a traditional Chinese dinner table you can expect anything from chicken feet, duck intestines to eggs that are so old they've gone black. Careful with the popular liquor called baijiu, it is very strong! The food is often very spicy and can seem very strange at first but I like to taste everything with an open mind and found a lot of it actually delicious.
Job Board
Hundreds of teaching jobs in China, fully screened, updated daily.
Talking To Teachers
Interviews with ESL Teachers