Gold Star TEFL Recruitment has been assisting teachers secure the very best teaching jobs in China since 2009 and has close connections with China's leading schools. For details on teaching jobs with English First and other major language schools have a look through our website and submit an application today.
Read more interviews with teachers in China here.
An Interview with Amr Eid at EF Xuzhou
This school is holding interviews now, apply today!
GS: So, can you tell us a bit about how you first got into English teaching?
AE: I got into English teaching after working for a few major banks and an international organization. I realized that my lifestyle did bring in the revenue that I had dreamt of, but lacked the joy I seek.
I've always admired teachers for their daily efforts to better the new generation and that's why I've become an English teacher. Bringing joy and knowledge to my students and their families brings me pride and the sense of fulfillment I have been seeking.
GS: What advice do you have for people about the recruitment and interview process when looking for jobs teaching in China?

AE: The recruitment and interview process in China consists of email communications, Skype interviews followed by a final decision. My advice is to know who you are interviewing with and seeing if your views align with theirs.
The location you are applying to is important; China is huge and you need to find a city with a comfortable climate. Knowing the age group you are comfortable teaching is also extremely important.
GS: You are teaching in Xuzhou at the moment, can you tell us about your impressions of the city? What do you like most about living there?
AE: Xuzhou is a popular city in Jiangsu Province, which stood through many ancient and modern historical wars. It carries a rich history and has a kind friendly population. Xuzhou is also the train hub of China. From here you can visit Beijing, Shanghai, or Guangzhou in about 3-4 hours by fast train.
What I like most about living in Xuzhou are my employer due to their great support, along with the amazing circle of friends I've built.
GS: What do you like most about teaching English?
AE: What I like most about teaching English is being able to interact with my students and leave an everlasting impact on their lives. My colleagues are definitely one of the main reasons why I love teaching with English First.
GS: Can you tell us about your favourite class at the moment?

AE: My favourite class at the moment is a summer course called Story Tellers. My students are between the ages of 3 and 4. Everyday we learn English nursery rhymes and the dance moves or gestures that go with the lyrics. This course exposes the children to western culture and strengthens their command of the English language.
So every day for me is a party with my students and my PA. My PA is a great individual who has been helping me find better ways to reach my students. All I can say is that nothing beats a fun classroom environment with the sweetest little individuals that I have ever met.
GS: Talk us through a typical day teaching English in China.
AE: On a typical day I wake up at around 9AM, have a light snack and then head to the gym for a good workout. A healthy mind resides in a healthy body. I am usually done exercising by 12PM. I take my e-bike to my favorite noodle shop. I eat until I can't move then head to the office to plan lessons for my week. Then I teach my classes based on my schedule for the day. We are lucky to have a great scheduling system. It gives us enough time to explore the city, make friends and fully enjoy our lives in Xuzhou.
GS: What are the teaching resources like there?

AE: In English First we pride ourselves on having the best of teaching resources and a supportive team. As the biggest English teaching private company in China, we are provided with material from our Shanghai headquarters. Our resources and courses are designed to properly assist all of our teachers no matter their level of experience. Such a system allows us to serve our students and their families to the highest of standards.
GS: How many teachers are there in your school?
AE: We currently have 30 Foreign Teachers: 17 teachers at my present location (School One), our second location we have 13 Foreign Teachers. We are expected to open a third location within our city boundaries as well. Our schools are growing on a daily basis. Our Chinese team is huge. It includes Local Teachers, Sales, Marketing, Public Relation, Human Resources, IT, Finance, and Management.
GS: China is full of surprises and unexpected adventures, tell us about one you have had recently.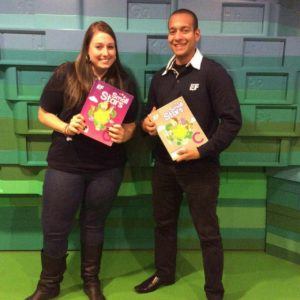 AE: My most recent surprising and unexpected adventure took place in Luoyang, Henan Province. Our plan was to visit a few temples and maybe stop by the Shaolin Temple. Having practiced Chinese Kung Fu for a few years, I was absolutely excited. We successfully made it into Shaolin Temple at 4 PM and realized that we only had 2 hours to see everything in this beautiful Kung Fu heaven.
Without thinking we ended up climbing the mountain to the giant Bodhi Dharma statue which took us the full two hours. By the time we got to the bottom, there was nothing but darkness. We needed to find a bus to a neighboring city but it was already too late and none of us could speak Mandarin. So we ended up staying in a hotel located within the temple. The next day we toured the temple once again and watched the masters and their students train. It was a dream come true. Spending two days in Shaolin is one thing I thought I would never be able to do. I feel extremely lucky.
This school is holding interviews now, apply today!
Read more interviews with teachers in China here.
Gold Star TEFL Recruitment has been assisting teachers secure the very best teaching jobs in China since 2009 and has close connections with China's leading schools. For details on teaching jobs with English First and other major language schools have a look through our website and submit an application today.
Apply now