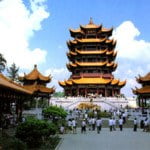 English Language School in Wuhan
Program Highlights
-Excellent salary: 12,000 – 20,000 RMB per month
-Teach in the exciting & historical city of Wuhan
-Modern, engaging curriculum and teaching materials supplied
-Full training and academic support provided
-Career development opportunities
ESL Jobs in Wuhan
We are currently holding interviews for qualified adventurers like you! Has it ever crossed your mind to step out of your comfort zone and start a fresh & exciting life in a stimulating environment, working together with passionate and supportive people? If that's the case, join us and teach English in the amazing city of Wuhan.
We are a well-established English training school for young learners. We are a very well-known and respected brand globally and in China. We have established over 658 training centers throughout China and continue to grow steadily. We provide excellent teaching materials and professional training for our teachers. You would be part of a team of committed teachers, fully supported by our enthusiastic and caring staff.
If you are seeking a more meaningful life in China and a place where you will enjoy calling home, then we warmly welcome you to our team to start your adventure-of-a-lifetime in Wuhan!
Teach English in Wuhan
Located right on the mighty Yangtze River east of Shanghai, Wuhan is a fascinating city with both an ancient history and a thriving present. For centuries, this city has been the center of trade and transportation in central China but is now known as one of China's main high-tech, education and financial centers, while still having a more traditional feel than some of China's coastal cities.
Wuhan is the place to find both history and natural wonders. Hubei Provincial Museum and Yellow Crane Tower are two places to appreciate ancient Chinese history and culture. Wuhan was also the location of one of Chairman Mao Zedong's private residences which he nicknamed the 'Home of the White Clouds and Yellow Cranes' and also where he gave audience to President Richard Nixon.
Reviews from Current and Previous ESL Teachers
I have worked at several English training schools and know people at many others. Working at my current school in Wuhan is without a doubt the most organized and supportive. My co-teachers are all patient, experienced, and passionate and drop everything to help me if I need anything.
– Aaron (Wuhan)
Read full interview with Aaron here.
My name is Billy and I've been teaching here in Wuhan for a couple of years now. I was new to teaching when I first arrived and so I was pretty nervous. How was I going to handle all those kids? The trainers at our school were so patient and helpful and really gave me a great foundation for a career in teaching!
– Billy (Wuhan)
My name is Jenny and I have been teaching here in Wuhan for just about a year. The school continues to surprise me by how well it is run, how cute the kids are, how dedicated the staff is, and how the teacher trainers always manage to teach me new tricks.
– Jenny (Wuhan)
Main Responsibilities
-Maximum of 25 teaching hours per week
-Maximum of 15 admin hours per week
-Class sizes: up to 15 students
-Student ages: 3 to 12 year olds
-5 or 6 working days per week (negotiable during interview)
-Cooperate with Chinese staff to ensure the constructive communication and efficient operation of the centre
-Participation in Extra Curricular Activities (ECA)
-Lesson planning, creating course outlines
-Deliver classes in a professional and creative way
Compensation
-Highly competitive salary: 12,000 – 20,000 RMB per month
-Housing allowance is negotiable and assistance is provided with apartment search
-Flight allowance provided on contract completion: 5,000 RMB
-End of year bonus provided based on performance
-5 paid personal holidays plus all national holidays
-Contract renewal bonus: 5,000 RMB
-Legal Z work visa (application assistance provided)
-Medical insurance provided
-Regular staff dinner & team building activities
-Career development opportunities
-Ongoing training and development workshops, including an initial 3 days induction
Requirements
-Native English speaker from UK, US, Canada, New Zealand, Australia or Ireland
-Bachelor's degree or above
-TEFL certificate in China 120 hours or above required
-2 years teaching experience preferred with recommendation letter (non-experienced teachers will be considered)
-Able to commit to a minimum of 15 months contract
-Clean criminal record
-Highly responsible team player with hard working ethics
There are no costs whatsoever for the entire recruitment process.
We are looking forward to hearing from you.