Gold Star TEFL Recruitment has been assisting teachers secure the very best teaching jobs in China since 2009 and has close connections with China's leading schools. For details on teaching jobs with English First and other major language schools have a look through our website and submit an application today.
Read more interviews with teachers in China here.
An Interview with Glen Cullen at English First Changshu, China
This school is holding interviews now, apply today!
GS: So, can you tell us a bit about how you first got into English teaching?
GC: I went to Kraków, Poland about 5 years ago to do a CELTA program and try to do some work with Polish theatre companies, my background in the States having been theatrical. In the beginning, teaching was simply a means to bankroll some foreign exploration, but I really liked it and am still doing it, 5 years later and now in China. In Poland, I exclusively taught adults in a general English capacity and also frequently in a business setting. It's been an interesting change of pace in China where the vast majority of my classes are with kids and teens.
GS: What advice do you have for people about the recruitment and interview process when looking for jobs teaching in China?
GC: When I was looking for a position here, a number of factors were important to me. I wanted a city that would be pleasant to live in, where there would be things to do, but where it wouldn't be too gigantic or industrial. I wanted a school that had a personal element to it and where I wouldn't be one more in a sea of teaching staff. It was also important to me to feel that the school would be legitimately a learning institution and not just a student mill—processing clients through for money and using teachers mainly as gears in that machine. I'd had friends in the past who had not had good experiences and I wanted to be very careful. Interviewing over Skype, I felt I had to really go with my gut feeling about the DOS with whom I spoke. I received a couple of offers before making my choice and that choice was really based on just having a good impression from the interview.
I have only done this once here so I don't know if I'm exactly a font of knowledge, but I think it's really important to make the interview as much about your questions as the other party's. Many schools are part of a franchise or some larger group where policies may be the same from one location to the next, but the different sites remain heterogeneous, so what really makes the difference are the real individuals with and for whom you'll be working. In the interview, do your best to really get a sense of those people.
GS: You are teaching in Changshu at the moment, can you tell us about your impressions of the city? What do you like most about living there?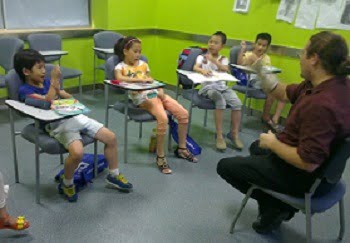 GC: Changshu is a nice small (by Chinese standards) city. It is very green here with many park spaces and a very nice large hill/small mountain right in the center with many nice old cultural elements and ample hiking about on trails as well as a very nice view on the top. There are a couple of large lakes nearby as well which are worth spending time at. The city is very clean and calm compared with some other, larger cities. There are a couple of good expat bars and a welcoming community of other foreigners that you can meet there. There are international supermarkets such as Wal-Mart and Auchan so it's easy to get some tastes from home from time to time. There are a few cinemas, plenty of good eating, a small collection of very strange clubs and apparently lots of clothes shopping if you're into that sort of thing.
While Changshu is a bit small and might not have everything you can find in a big city, it is very nicely situated, close to Suzhou which is about 45 minutes away. Suzhou is a nice bigger city with loads to do. Shanghai, which is a bit farther, has almost anything you're looking for. It's very easy to pop over to one of these places for a day trip or during the weekend and then it's nice to come back to a quieter city to live and work in.
GS: What do you like most about teaching English?
GC: It is simply a rewarding work. It feels good to be giving people something they want which can help them improve their lives and expand their horizons. It's a very interactive work and can be intellectually and creatively taxing. But it is so much more satisfying to do work which makes those demands as opposed to a dreary office job where the brain and soul may so easily atrophy. In addition to that, it is often a great deal of fun. Teaching kids involves a lot of play while teaching teens and adults is more conversational and it can really be very pleasant.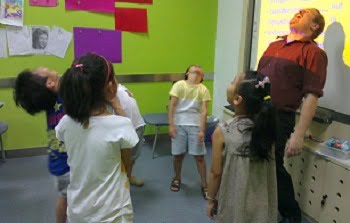 GS: Can you tell us about your favourite class at the moment?
GC: Right now I have a teen group which I really like teaching. It's a great middle ground with them, between having a more adult ability to think critically and express their opinions and thoughts in interesting ways and having a more kid-like energy. They're all smart kids and very open and communicative which makes so much difference. It's hard to teach language to someone who doesn't have anything to say. The fact that they are so enthusiastic about communicating makes them a real pleasure to teach.
GS: Talk us through a typical day teaching English in China.
GC: It's a mix. For most of the year, we have most of our teaching hours from Friday to Sunday with days off on Wednesdays and Thursdays. That means that Mondays and Tuesdays consist of most of the weeks planning and preparation with a couple classes in the afternoon and evening. Then the weekend is pretty full with a variety of different classes, from preschoolers up to adults. This location is still pretty young and is still pretty small. This contributes to it being a very friendly and easy place to work. There are some schools which can be so hectic and crazy that it's hard to hear yourself think while planning lessons. Here, everyone's very nice and it's a comfortable work situation.
GS: What are the teaching resources like there?
GC: There are a lot of good resources. I hadn't used the interactive whiteboard before coming to China and it's a very useful tool I think. There are lots of resources for class collected on the computers at school and also simple good resources in the form of experienced colleagues who are happy to share ideas. The school fairly well equipped with teaching materials with a good collection of useful class items like toys, colored pens, scissors, a laminator, flashcards and things like that.
GS: How many teachers are there in your school?
GC: Right now there are 7 teachers at our school—3 foreign and 4 local, though I understand that soon, we may be bringing in one more foreign teacher.
GS: China is full of surprises and unexpected adventures, tell us about one you have had recently.
GC: Being a foreigner in China is often an interesting experience to say the least. Perhaps the best thing I can liken it to is being some kind of celebrity. It has happened many times that when my wife Kate and I have been out and about that we've gotten our picture taken or that people have wanted their picture taken with us—or more often with her(I guess I should be prettier). The funniest case of this was when we were recently up in Beijing playing tourist. We were walking through the garden at the end of the Forbidden City and two different ladies in turn, handed Kate their babies so they could take pictures of her holding the baby. There aren't many situations I'd previously encountered when random babies just get shoved into your arms. Only in China!
This school is holding interviews now, apply today!
Read more interviews with teachers in China here.
Gold Star TEFL Recruitment has been assisting teachers secure the very best teaching jobs in China since 2009 and has close connections with China's leading schools. For details on teaching jobs with English First and other major language schools have a look through our website and submit an application today.
Apply now