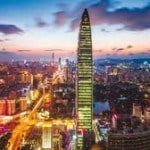 Kindergarten Learning Institute in Shenzhen
Program Highlights
-Excellent salary: 19,000 to 27,000 RMB per month (approx. 2,700 to 3,800 USD per month)
-Monday to Friday work schedule with weekends off
-Airport pickup and 3 to 5 days hotel accommodation
ESL Jobs in Shenzhen
Our school was founded by early education experts in China and the United States where we promise to provide high-standard early education. We are now seeking professional teachers to make an impact on our students aged 1.5 to 8 years old.
We cultivate the next generation of talents to be trusting, caring, cooperative, responsible leaders with both a Chinese spirit and an international vision. Teachers will use various activities and teaching techniques to aid student's engagement such as arts and crafts. While helping students develop their English foundation, our teachers will also encourage social and emotional growth. Lastly, teachers will look after and care for the children to help them feel safe and enjoy learning.
Classes are held during the day time from Monday to Friday so you have evenings and weekends off so you can adventure the city.
Teach English in Shenzhen
Shenzhen is located in the southern portion of the Guangdong Province, on the eastern shore of the Pearl River Delta. Neighboring the Pearl River Delta and Hong Kong (located just south of Shenzhen), Shenzhen's location gives it a geographical advantage for economic development. In 1980, the first Special Economic Zone of China was built in Shenzhen. From then on, Shenzhen become a highlighted city of China, one known for its rapid economic growth.
Shenzhen is considered as one of the richest cities in the country which offers foreigners a great insight into contemporary China. From a small fishing village 30 years ago, Shenzhen has turned into a city filled with dynamic energy and on its way to becoming a world-class metropolis. Shenzhen is also known for its famous architecture, bars, restaurants, art scenes and shopping areas.
Main Responsibilities
-Monday to Friday classes (8:10 am to 5:10 pm) with evenings and weekends off
-Students aged 2 to 6 years old
-Deliver learner centered, engaging lessons to students
-Ensure equal participation of all students
-Complete all administrative tasks in a timely manner
-Engage students interactions with class materials or activities
-Manage student's in class behaviour and emotional control
Compensation
-Excellent salary: 19,000 to 27,000 RMB per month before tax (approx. 2,700 to 3,800 USD per month)
-Airfare allowance upon contract completion of 8,000 RMB (approx. 1,100 USD)
-Relocation allowance of 10,000 RMB (approx. 1,400 USD)
-Z work visa provided
-Health and social insurance provided
-Airport pickup and 3 to 5 days hotel accommodation provided
-11 national holidays and two weeks off in summer and winter
-Pre-job training and professional development provided
-Free lunch provided
-Contract renewal bonus
-Annual salary increase
-Annual team building trips
Requirements
-Native English speaker from UK, USA, Canada, Australia or New Zealand
-Bachelor's degree (major in Childhood is a plus)
-Teaching experience preferred but not required as we provide full training
-Be able to control children's emotions and basic class management ability
-Teachers with a talent for art and music are preferred