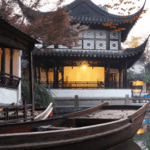 English Language School in Suzhou
Program Highlights
-Excellent salary: 17,000 to 22,000 RMB per month (housing allowance included)
-10 summer & 10 winter holidays provided
-Modern, interesting curriculum and teaching materials supplied
-Teach in the beautiful city of Suzhou, known as "Venice of the East"
ESL Jobs in Suzhou
We are a high-end education training school for young learner's English learning. We are devoted to introduce and develop the "immersive" English learning environment. Our goal is to build China's No.1 children's English brand for children aged from 3 to 12 years old.
Since our establishment in 2015, we have won a good reputation in the market and have been developing rapidly thanks to our excellent academic team. At present, we have 8 campuses in Suzhou, with a total area of 2500 square meters. The 8 campuses are: Lakeside Campus, Phoenix Campus, SIP AEON Campus, SND AEON Campus, SND Huirong Square Campus, U FUN campus, Dong Shahu Campus, Pengjiang Campus.
We name our teaching model 'Creative English', combining the top international curriculum with our "mind + creativity" teaching system, and this has become one of a kind in China. Teachers will be working a maximum of 35 hours per week from Wednesday to Sunday with two days off per week (Monday & Tuesday). Our focus has always been on providing quality lessons with small class sizes to young learners. We recognize that good lessons require good teachers therefore we provide excellent training, ongoing development as well as opportunities for promotion and advancement.
Teach English in Suzhou
Suzhou is a renowned cultural, historic and tourist city, located just 25 minutes north of Shanghai on the fast train. The city is located in the southeast of Jiangsu Province, bordering Shanghai on the east. Written historical records indicate that Suzhou has a history of over 4000 years and the city is now best known around China for its unique and plentiful gardens and its many streams and canals, which have earned it the nickname "Venice of the East".
In early years, teahouses and theatres were the most common nightlife activities. With the development of tourism however, there are multiple more fashionable choices in Suzhou now.
Suzhou is widely known in China as being one of the most livable cities in China, with a buzzing expat community and friendly locals. You will not enjoy only good food there, but also cosmopolitan atmosphere of nightlife activities including cafes, bars, teahouses, theatres and cinemas.

Reviews from Current and Previous ESL Teachers
"It was a great experience to work here in 2015 and 2016. They showed me great respect when I put forward some ideas about teaching. It was my first job in China. I am glad that they make me decide to work longer in China." – Julie
"I really enjoy teaching, and I would say it's a passion of mine. It is the most rewarding job I have ever had. I love to make the students smile and laugh. I believe it's very important that the children have as much fun as possible while learning. All the staff and teachers here are always so helpful, supportive and enthusiastic inside and outside the classroom and great to work with. The students are excited and energetic and eager to learn."- Jordan
Main Responsibilities
-Maximum of 25 teaching hours per week
-Maximum of 35 working hours per week (Wednesday to Friday: 3pm to 8pm; Saturday & Sunday: 10am to 8pm ; Monday & Tuesday are off)
-Student ages: 3 to12 years old
-Class size: average of 8 to12 students per class
-Teach students based on the school's teaching plans
-Use electronic media and courseware to conduct classes effectively
-Evaluate student's progress and provide ongoing guidance for improvement
-Actively participate in the school activities related to teaching.
Compensation
-Monthly salary: competitive: 15,000 to 20,000 RMB (depends on experience & qualifications)
-Monthly housing allowance: 2,000 RMB
-7 days' hotel provided upon arrival plus airport pick-up
-All public holidays (full pay) plus 10 days of summer holidays & 10 days of winter holidays (full pay) and 1 day off for Christmas (full pay)
-Round air ticket reimbursement up to 10,000 RMB (reimbursed up to 4,000 RMB upon arrival; the rest will be given on contract completion)
-Legal Z Work visa provided
-Health insurance
-Promotion opportunites
Requirements
-Native English speaker from UK, US, Canada, New Zealand, Australia or Ireland
-Bachelor's degree or above
-TEFL certificate 120 hours or above or at least 2 years teaching experience required (No TEFL? – We recommend INTESOL www.GoldStarTeachers.com/INTESOL)
-Clean criminal record
-Highly responsible team player with hard working ethics
There are no costs whatsoever for the entire recruitment process.
We are looking forward to hearing from you.