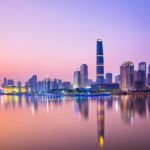 International High School in Guangzhou
Program Highlights
-Excellent monthly salary: 20,000 – 26,000 RMB (based on experience & qualifications)
-Teach English Literature, History or Geography
-Monday to Friday work schedule
-Summer & winter vacation (60% paid)
-Teach in our reputable international high school in Guangzhou
ESL Jobs in Guangzhou
We are now looking for inspiring and professional English Literature, History or Geography teachers to join our school in the vibrant city of Guangzhou. We are one of the leading international high schools in Guangdong province, located in the south of China.
We launched our high school in conjunction with one of the world-renowned international education programs, Griggs International Academy (GIA). Located in Huangpu, Guangzhou, we offer intercultural education with a focus on Science, Technology, Engineering and Math (STEM). Students attending our school are destined to become future leaders. Our character development programs ensure that students develop self-confidence and enhance their strengths. Our students will be prepared to serve the world with distinctive Chinese culture as well as international mindedness.
The soul of our educational philosophy, constructed on "East meets West" cultural core, based on a "global context" of quality education strategy, is committed to developing our students' knowledge, so that each student becomes lifelong learners, international communicators and creators of the future.
We strive to provide a full range of holistic education to students and to fully equip them with knowledge and skills. We encourage creativity and the sharing of ideas, so if you're looking for adventure then we warmly welcome you.
Teach English in Guangzhou
Guangzhou, a prosperous metropolis full of vigor, is the capital city of Guangdong province located along the south coastline of China. Being an excellent port on the Pearl River navigable to the South China Sea, and with fast accessibility to Hong Kong and Macau, Guangzhou serves as the political, economic, scientific, educational and cultural center in the Guangdong area.
Guangzhou is considered as the paradise for food-lovers in south China. Guangzhou dish represents well the Guangdong cuisine, which is one among the most famous eight cuisines in China. A large amount of time-honored restaurants and quality new restaurants serve various authentic Guangzhou dishes, snacks, and drinks. Explore a modern, developing city with an exciting mix of restaurants, bars, shopping as well as tradition elements.
Main Responsibilities
-Maximum of 18 teaching hours per week
-Maximum of 40 working hours per week
-Monday to Friday work schedule with evenings & weekends off
-Student ages: high school students
-Class size: max of 25 students
-Lesson planning
-Use audio / video materials in classes
-Attend school's social events
Compensation
-Excellent salary: 20,000 – 26,000 RMB per month (based on experience & qualifications)
-Free 3 days hotel stay upon arrival
-Monthly housing allowance: 2,000 RMB
-Flight allowance: up to 7,000 RMB on contract completion
-Contract completion bonus: 4,000 – 5,000 RMB
-Legal 'Z' work visa provided
-Health insurance provided
-National holidays (full pay) plus 1.5 months summer vacation (60% pay) & 1 month winter vacation (60% pay)
-Annual salary increase
-Meals provided during work schedule
-On-going training and academic support
Requirements
-Master's degree or above in related subject
-Teaching license required (applicants with TEFL Certificate only will be considered if they have good backgrounds and degree in relevant subjects)
-Native English speaker from UK, USA, Canada, Australia, New Zealand and Ireland
-2 years of teaching experience required
-Plenty of passion and energy, committed, positive and sociable
There are no costs whatsoever for the entire recruitment process.
We are looking forward to hearing from you.