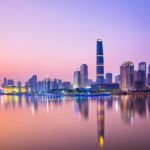 Private University in Guangzhou
Program Highlights
-Excellent monthly salary: 13,000 to 16,000 RMB
-Maximum of 16 classes per week, 45 minutes per class (no admin hours)
-Teach motivated university students at our modern campus in Guangzhou and Zhaoqing
-Monday to Friday schedule
University ESL Jobs in Guangzhou
We are now holding interviews for professional English teachers to teach at our university located in the exciting city of Guangzhou and Zhaoqing. If you are interested in teaching in a prestigious university setting and can deliver engaging, learner centered lessons, then we are interested in speaking with you.
Our education group was founded in 2003, and in 2006 we founded Huashang College Guangzhou University of Finance & Economics. We are committed fully to high-quality education, continuously developing a professional faculty and management team. With 10 years of continuous development, we have enrolled more than 30,000 students distributed at all levels of education and cultivated a wealth of talents.
Our goal is to internationalize education in the public sector and create a relaxed and friendly environment to enable students to gain confidence in their English. Teachers will be delivering General & Business English or Japanese to our university students. Teachers will be teaching a Monday to Friday schedule with less than 16 teaching hours per week, which leaves them plenty of time to explore the fascinating city of Guangzhou.
As the window of international education, we are always committed to exploiting international cooperation in higher education, pursuing international education resources and promote inter-cultural education exchange. More than 400 students in our university had opportunities for overseas exchange and study.
We take professionalism in teaching seriously and as part of that offer regular professional development sessions to assist our staff in their own development, enabling them to reach higher standards both in the short term and in the future. We warmly welcome professional ESL teachers to join our team. The teaching materials and resources are provided by the school and teachers are encouraged to adapt and supplement the materials where need be to ensure classes are engaging and interesting.
Teach English in Guangzhou
Guangzhou, a prosperous metropolis full of vigor, is the capital city of Guangdong province located along the south coastline of China. Being an excellent port on the Pearl River navigable to the South China Sea, and with fast accessibility to Hong Kong and Macau, Guangzhou serves as the political, economic, scientific, educational and cultural center in the Guangdong area.
Guangzhou is considered as the paradise for food-lovers in south China. Guangzhou dish represents well the Guangdong cuisine, which is one among the most famous eight cuisines in China. A large amount of time-honored restaurants and quality new restaurants serve various authentic Guangzhou dishes, snacks, and drinks. Explore a modern, developing city with an exciting mix of restaurants, bars, shopping as well as tradition elements.
Main Responsibilities
-Maximum of 16 teaching hours per week (no admin hours)
-Monday to Friday classes with weekends off
-Student ages: 18 – 22 years old
-Teach general English & Business English or Japanese
-Ensure equal participation of all students
-Complete all administrative tasks in a timely manner
Compensation
-Excellent monthly salary: 13,000 to 16,000 RMB (before tax) depending on qualifications & experience
-Free accommodation provided by the university
-Flight allowance provided (4,000 RMB after 6 months and another 4,000 RMB paid on contract completion)
-75% of the teachers' regular salary is paid during summer and winter vacation, plus 11 national holidays (full pay). 25% of Party B's salary for summer and winter vacation will be given respectively after next year's summer or winter vacation
-Legal 'Z' work visa provided
-Health insurance provided
-Free weekly Mandarin lessons online
-Christmas bonus: 2,000 RMB
Requirements
-Bachelor degree or above in relevant majors, PhD is strongly preferred
-Native English speaker from UK, USA, Canada, Australia, New Zealand or Philippines
-120 hour TEFL certificate required (No TEFL? – We recommend INTESOL www.GoldStarTeachers.com/INTESOL)
-At least 1 year of teaching experience required
-Clean criminal record
-Professional, positive and culturally aware
There are no costs whatsoever for the entire recruitment process.
We are looking forward to hearing from you.