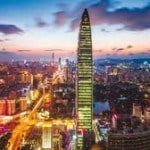 Public Schools in Shenzhen

Program Highlights
-Excellent salary: 13,000 – 17,000 RMB per month plus 3,000 RMB housing allowance (depending on qualifications and previous experience)   
-Monday to Friday schedule with weekends off
-Holiday allowance
ESL Jobs in Shenzhen
Our education group is now holding interviews for English teachers to teach at our public schools that we cooperate with based in the southern Chinese city of Shenzhen. If you are a creative teacher, have an interest in an authentic Chinese school setting and can deliver learner centered, engaging lessons then we are interested in speaking with you.
Our education group was founded in London in July 2012 and we have grown rapidly in the past few years and have set up our branch in Shenzhen.
We seek foreign teachers to enhance public primary and secondary schools' English development to keep pace with the economic development of the region. Our teachers will be assigned to the excellent local schools that we cooperate with. In addition, we have special classes for drama, so if you have relevant drama backgrounds we welcome you on board!
Our goal is to internationalize education in the public sector, and create a relaxed and friendly environment to enable students to gain confidence in their spoken English. We take professionalism in teaching seriously, and as part of that offer regular professional development sessions to assist our staff in their own development, enabling them to reach higher standards both in the short term and in the future.
School Programs
We undertake a series of exchange programs among public primary and middle schools in China and the UK. The core businesses are composed of input and management of international courses, summer and winter camps in the UK, China-UK sister schools, international exchange students, and consultation of school management.
Our research team has gained knowledge from the advanced concept in our sister school's UK education systems, and developed B&A Phonics Curriculum according to the diversity of Chinese students. This set can be adopted to all the international courses in primary and middle schools, aimed to help Chinese pupils enjoy learning English. It has also won plenty of praise from schools and the industry.
Teaching materials and resources are provided by the school and are targeted to the age of the students being taught. Materials follow the Chinese national school curriculum and our own developed programs. Teachers are encouraged to adapt and supplement the materials where need be to ensure classes are engaging and interesting.
Teach English in Shenzhen
Shenzhen is located in the southern portion of the Guangdong Province, on the eastern shore of the Pearl River Delta. Neighboring the Pearl River Delta and Hong Kong (located just south of Shenzhen), Shenzhen's location gives it a geographical advantage for economic development. In 1980, the first Special Economic Zone of China was built in Shenzhen. From then on, Shenzhen become a highlighted city of China, one known for its rapid economic growth.
Shenzhen is considered as one of the richest cities in the country which offers foreigners a great insight into contemporary China. From a small fishing village 30 years ago, Shenzhen has turned into a city filled with dynamic energy and on its way to becoming a world-class metropolis. Shenzhen is also known for its famous architecture, bars, restaurants, art scenes and shopping areas.

Main Responsibilities
-Maximum of 18 lessons per week
-Average class size: 40 students
-Monday to Friday classes with evenings and weekends off
-Deliver learner centered, engaging lessons to students
-Ensure equal participation of all students
-Actively participate in professional development workshops and activities
-Attend school activities, parties and other events
Compensation
-Excellent base salary: 13,000 – 17,000 RMB plus 3,000 RMB housing allowance monthly (depending on qualifications and previous experience).
-Holiday allowance
-Quarantine allowance 5000 RMB
-6,000 RMB flight reimbursement paid after completed and fulfilled the contract.
-Annual salary increase
-All the national public holidays plus summer vacation
-Legal 'Z' work visa, PU letter, work and residence permit provided
-Accidental and social insurance
-Professional pre-job training with on-going program supervision
-Free Chinese class provided
-Free lunch provided during working schedule
-Airport pickup service
-Hotel upon arrival
-Monthly team building
-Contract renewal bonus
-Evaluation bonus
-Paid sick leaves
Requirements
-Native English speaker from UK, USA, Canada, Australia, New Zealand or Ireland
-Bachelor's degree or above required
-120 hour TEFL/TESOL certificate required and CELTA certificate highly preferred (No TEFL? – We recommend INTESOL www.GoldStarTeachers.com/INTESOL)
-Teaching license highly preferred
-2 years teaching experience highly preferred
-Clean criminal record
-Professional, positive and culturally aware
There are no costs whatsoever for the entire recruitment process.
We are looking forward to hearing from you.