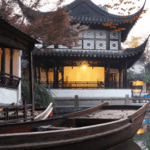 Private Schools in Suzhou, Xuzhou, Yiwu
Program Highlights
-Excellent monthly salary: 22,000 to 30,000 RMB
-Free accommodation provided
-Teach in the beautiful city of Suzhou "Venice of the East", exciting ancient city of Xuzhou or Yiwu
-Cambridge English curriculum & Imagine textbooks supplied
-Long term career path for all of our teachers
ESL Jobs in Suzhou, Xuzhou & Yiwu
We are an educational service enterprise and we are currently holding interviews for our bilingual private kindergarten, primary, middle, and senior high schools in the east coast cities of Suzhou, Xuzhou and Yiwu. We have positions teaching English, Music, Economics, Chemistry, Physics and Maths. Our schools deliver high quality education with global opportunities to enable every student, aged from 3 to 18, to succeed academically, mentally, physically & socially.
We select top educational resources and promote the integration of local and international educational approaches. Our objective is to build high-end and refined bilingual schools to allow our students to learn in a stimulating and healthy environment, offering academic excellence.
Based on our professional experience and outstanding products, we provide the Cambridge English curriculum & the engaging "Imagine". Our students have the opportunity to study in a fun and immersive English environment, which stimulates their interest in English learning. In addition, we focus on cultivating our student's leadership skills, including teamwork, presentation, project management, problem solving and creativity.
Teach English in Suzhou
Suzhou is a renowned cultural, historic and tourist city, located just 25 minutes north of Shanghai on the fast train. The city is located in the southeast of Jiangsu Province, bordering Shanghai on the east. Written historical records indicate that Suzhou has a history of over 4000 years and the city is now best known around China for its unique and plentiful gardens and its many streams and canals, which have earned it the nickname "Venice of the East".
In early years, teahouses and theatres were the most common nightlife activities. With the development of tourism however, there are multiple more fashionable choices in Suzhou now. Suzhou is widely known in China as being one of the most livable cities in China, with a buzzing expat community and friendly locals.
Teach English in Xuzhou
Located in the northwestern part of the Jiangsu Province, not too far from Shanghai, the city has a distinct advantage with its excellent geographical position. After years of development, Xuzhou has become a city that perfectly combines traditional culture with modern life.
Although Xuzhou is an ancient city, the people still enjoy a modern lifestyle. They go to bars, amusement centers, cinemas and sports centers. A vibrant city with plenty on offer, Xuzhou has something for everyone.
Teach English in Yiwu
Yiwu is located in the center of Zhejiang province, not far south of Shanghai, and as such benefits from a pleasant subtropical year round climate. The city is populated with just over a million people, a mid-sized city for Chinese standards. There is plenty to keep you busy in Yiwu, whether it be outdoor sports, hiking or white water rafting to relaxing in one of the many tea houses and bars or exploring the city's hidden delights.
Main Responsibilities
-Maximum of 20 teaching hours per week
-Maximum of 40 working hours per week
-Student ages: Kindergarten students (3 to 5 years old) / Primary students (6 to 12 years old) / Middle School students (13 to 15 years old), Senior High School students (16 – 18 years old)
-Class size: average of 28 students per class
-Work schedule: Monday to Friday (8:00 to 17:30) with evenings & weekends off
-Cooperate with Chinese staff to ensure the constructive communication and efficient operation of the centre
-Lesson planning, creating course outlines
-Deliver classes in a fun and creative way
Compensation
-Excellent monthly salary: 22,000 to 30,000 RMB (based on experience & qualifications and negotiable)
-Free accommodation provided (not shared)
-Flight reimbursement on contract completion: up to 10,000 RMB
-Chinese public holidays (paid) plus average of 5 to 6 weeks summer vacation & 2 to 3 weeks winter vacation and 5 days off for Christmas with full pay
-Academic bonus: equal to 1 month's salary
-Paid and sponsored Z work visa
-Health insurance provided
-600 RMB towards meals at school cafeteria every month
-60% to 80% discount for your child's tuition fee (based on years of working at our school)
-Professional pre-job training with on-going program supervision
Requirements
-Native English speaker from UK, US, Canada, New Zealand, Australia, or Ireland
-Bachelor's degree or above
-TEFL certificate 120 hours or above required (holds PGCE or degree in education will also be acceptable) (No TEFL? We recommend INTESOL www.GoldStarTeachers.com/INTESOL)
-2 years of teaching experience required
-Highly responsible team player with hard working ethics
There are no costs whatsoever for the entire recruitment process.
We are looking forward to hearing from you.