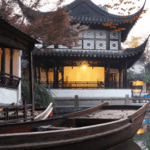 Private Kindergarten in Suzhou
Program Highlights
-Excellent salary: 16,000 to 18,000 RMB per month
-Monthly housing allowance: 2,000 RMB
-Monday to Friday work schedule with 1 month summer vacation & 2 weeks winter vacation
-Modern, engaging curriculum and teaching materials supplied
ESL Jobs in Suzhou
Our bilingual kindergarten is currently seeking full time teachers to teach in our modern campus in Suzhou. You will be part of a team of committed teachers delivering a truly unique and meaningful education to our students. We have a team of teachers with compassion, responsibility and a commitment to excellence in education.
We are a private kindergarten for children aged from 3 to 6 years old. We have developed an unique education curriculum that combines innovative western education approach such as "Systems Thinking" with traditional Chinese education thoughtfully implemented to foster healthy, physically and emotionally balanced young children, preparing them to cope with the opportunities and challenges in the 21st century and as they develop their character and knowledge.
Our teaching style is based on the theory of multiple intelligences, and integrates the essence of western curriculum (Hi Kids textbooks, Montessori teaching method, Orff music teaching method, Frobel teaching method). We also use themed games, activities and songs to enhance to learning environment. We do our best to develop children's thinking potential, promote the development of children's logic, and create a harmonious environment where our children are happy, teachers are relaxed, and parents are assured.
Our school is located in the "New Lake Pearl City" on the bank of the East Taihu Lake in Wujiang, covering an area of 3,500 square meters (only 10 minutes walk to subway line 4 Jianglin Xi Lu Station).
Teach English in Suzhou
Suzhou is a renowned cultural, historic and tourist city, located just 25 minutes north of Shanghai on the fast train. The city is located in the southeast of Jiangsu Province, bordering Shanghai on the east. Written historical records indicate that Suzhou has a history of over 4000 years and the city is now best known around China for its unique and plentiful gardens and its many streams and canals, which have earned it the nickname "Venice of the East".
In early years, teahouses and theatres were the most common nightlife activities. With the development of tourism however, there are multiple more fashionable choices in Suzhou now.
Suzhou is widely known in China as being one of the most livable cities in China, with a buzzing expat community and friendly locals. You will not enjoy only good food there, but also cosmopolitan atmosphere of nightlife activities including cafes, bars, teahouses, theatres and cinemas.
Main Responsibilities
-Maximum of 20 teaching hours per week
-Maximum of 20 office hours per week
-Monday to Friday work schedule (8 hours per day)
-Student age: 3 to 6 year olds
-Conduct in-class teaching and English program related extracurricular activities based on our teaching curriculum
-Cooperate with Chinese staff to ensure the constructive communication and efficient operation of the centre
-Deliver classes in a fun and creative way
Compensation
-Highly competitive salary: 16,000 to 18,000 RMB per month (gross) based on qualification & experience
-Monthly housing allowance: 2,000 RMB
-All national holidays (full pay) plus 1 month summer vacation & 2 weeks winter vacations (half pay)
-Legal Z work visa provided
-Health insurance provided
-Ongoing training and development workshops
Requirements
-Native English speaker from UK, US, Canada, New Zealand, Australia or Ireland
-Bachelor's degree or above
-TEFL certificate 120 hours or above (NO TEFL? We recommend INTESOL) OR 2 years teaching experience required
-Clean criminal record
-Commitment to education, passion for teaching, and love working with children
There are no costs whatsoever for the entire recruitment process.
We are looking forward to hearing from you.