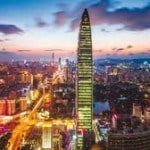 Primary, Middle, High School in Shenzhen
Program Highlights
-Excellent salary: 10,000 to 15,000 RMB per month plus benefits
-Free in-campus accommodation provided
-Monday to Friday schedule with evenings and weekends off
-Teach at private primary, middle, high school in the vibrant city of Shenzhen
ESL Jobs in Shenzhen
Our primary, middle and high schools are now holding interviews for English teachers, based in the southern Chinese city of Shenzhen. If you are a creative teacher, have an interest in an authentic Chinese school setting and can deliver learner centered, engaging lessons then we are interested in speaking with you.
As a first-class international early childhood education provider, we constantly endeavor to maintain high qualities and standards. We operate on the principles of "Specialization, Diligence, Innovation, Practicality, Integrity and Sincerity". Our teaching materials follow the Chinese public school curriculum but teachers are encouraged to use extra with our professional team placing a strong emphasis on looking after each child at their different stages of development. We are eager to show appreciation and concern for each individual child.
We are committed to helping the children cultivate fine practices in the aspects of general living, learning, culture and reasoning. Our careful guidance facilitates students' development in physical and mental health, the potential to love, and the passion for knowledge. The ultimate goal is for them to become international talents in the future who can contribute to the rapid advancement of the society.
Teach English in Shenzhen
Shenzhen is located in the southern portion of the Guangdong Province, on the eastern shore of the Pearl River Delta. Neighboring the Pearl River Delta and Hong Kong (located just south of Shenzhen), Shenzhen's location gives it a geographical advantage for economic development. In 1980, the first Special Economic Zone of China was built in Shenzhen. From then on, Shenzhen become a highlighted city of China, one known for its rapid economic growth.
Shenzhen is considered as one of the richest cities in the country which offers foreigners a great insight into contemporary China. From a small fishing village 30 years ago, Shenzhen has turned into a city filled with dynamic energy and on its way to becoming a world-class metropolis. Shenzhen is also known for its famous architecture, bars, restaurants, art scenes and shopping areas.

Main Responsibilities
-Maximum of 15 teaching hours per week
-Maximum of 20 admin hours per week
-Monday to Friday schedule with evenings and weekends off (7:40 to 11:15, 1:30 to 5:00)
-Student ages: 3 – 17
-Class sizes: around 40 students per class
-Deliver learner centered, engaging lessons to students
-Ensure equal participation of all students
-Actively participate in professional development workshops and activities
-Attend school activities, parties and other events
Compensation
-Excellent base salary: 10,000 to 15,000 RMB monthly (depending on experience and qualifications)
-3,000 RMB per month housing allowance OR free off-campus shared accommodation provided
-Airport pick up
-Airfare allowance: 5,000 RMB (paid on contract completion)
-Annual salary increase (depending on performance)
-All national holidays (full pay) plus Summer & Winter holidays with basic salary
-Lunch provided during work days
-Legal 'Z' work visa provided (Reimbursed residence permit, and obligatory medical check-up)
-Social insurance provided
-Regular teaching training provided
-Opportunities for promotion and career advancement
-Professional pre-job training with on-going program supervision
Requirements
-Native English speaker from UK, USA, Canada, Australia, New Zealand or Ireland
-Bachelor's degree
-2 years of teaching experience OR 120 hour TEFL certificate required (No TEFL? – We recommend INTESOL)
-Clean criminal record
-Professional, positive and culturally aware
There are no costs whatsoever for the entire recruitment process.
We are looking forward to hearing from you.