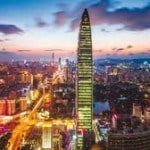 Young Learners Language School
Program Highlights
-Excellent pay range: 18,000 to 23,000 RMB per month (approx. 2,500 to 3,200 USD per month)
-Monday to Friday work schedule with weekends off
-Housing allowance or accommodation is provided
ESL Jobs in Shenzen and Guangzhou
We are currently seeking to add passionate teachers to care for and instruct our kindergarteners aged 3 to 6 years old in Shenzhen and Guangzhou. You will ideally be able to maintain a high level of energy to better interact with children and build a close relationship with children. You will guide English learning through various types of activities such as drawing or singing and apply lessons to their everyday lives. Classes will be lead with engaging games that help students focus and stay attentive which will also make teaching a breeze.
We hold smaller class sizes of 15 to 20 students per class so teachers can more effectively maintain class management and provide attentive care. Classes are held during the day time from Monday to Friday with evenings and weekends off so you can explore the metropolis and experience the culture. If you enjoy seeing bright smiling faces greeting you and watching children quickly develop their English foundation, then this job is the right one for you!
Teach English in Shenzhen
Shenzhen is located in the southern portion of the Guangdong Province, on the eastern shore of the Pearl River Delta. Neighboring the Pearl River Delta and Hong Kong (located just south of Shenzhen), Shenzhen's location gives it a geographical advantage for economic development. In 1980, the first Special Economic Zone of China was built in Shenzhen. From then on, Shenzhen become a highlighted city of China, one known for its rapid economic growth.
Shenzhen is considered as one of the richest cities in the country which offers foreigners a great insight into contemporary China. From a small fishing village 30 years ago, Shenzhen has turned into a city filled with dynamic energy and on its way to becoming a world-class metropolis. Shenzhen is also known for its famous architecture, bars, restaurants, art scenes and shopping areas.

Teach English in Guangzhou
Guangzhou, a prosperous metropolis full of vigor, is the capital city of Guangdong province located along the south coastline of China. Being an excellent port on the Pearl River navigable to the South China Sea, and with fast accessibility to Hong Kong and Macau, Guangzhou serves as the political, economic, scientific, educational and cultural center in the Guangdong area.
Guangzhou is considered as the paradise for food-lovers in south China. Guangzhou dish represents well the Guangdong cuisine, which is one among the most famous eight cuisines in China. A large amount of time-honored restaurants and quality new restaurants serve various authentic Guangzhou dishes, snacks, and drinks. Explore a modern, developing city with an exciting mix of restaurants, bars, shopping as well as traditional elements.
For more information on the city of Guangzhou have a look at these sites:

Main Responsibilities
-Monday to Friday classes (8:00 am to 5:00 pm) with evenings and weekends off
-Teaching hours are less than 25 hours per week
-Students aged 3 to 6 years old
-Class size of 15 to 20 students
-Lead active and engaging lessons to students
-Ensure equal participation of all students
-Complete all administrative tasks in a timely manner
-Help students relate and apply class materials to everyday life
-Manage student's in class behaviour and emotional control
Compensation
-Excellent pay range: 18,000 to 23,000 RMB per month (approx. 2,500 to 3,200 USD per month)
-Airfare allowance of 5,000 RMB (approx. 700 USD)
-Contract renewal bonus of 6,000 RMB (approx. 800 USD)
-Z work visa provided
-Health insurance provided
-15 national days public holiday with paid winter and summer vacation
Requirements
-Native English speaker from UK, USA, Canada, Australia, New Zealand, Ireland, and South Africa
-Bachelor's degree or above
-2 years teaching experience OR a minimum of 120 hour TEFL certification (No TEFL? – We recommend INTESOL)
-Be able to mediate children's emotions and basic class management ability