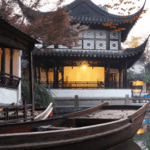 International Kindergarten in Suzhou
Program Highlights
-Excellent monthly salary: 15,000 to 22,000 RMB per month
-Monthly housing allowance: 2,000 RMB
-Summer & winter holidays provided
-Teach in the beautiful city of Suzhou, known as "Venice of the East"
ESL Jobs in Suzhou
Our international kindergarten is now in search of passionate Early Childhood English Teachers to join our fantastic team in the beautiful city of Suzhou. We adhere to the philosophy "We discover children; Children discover the world" and we are dedicated to creating a fun, healthy, caring and inspiring English learning environment for our children.
We provide a first-class international curriculum and learning environment for children from all over the world. Absorbing the essence of advanced educational concepts from both China and abroad, we developed our own curriculum – MIC, which focuses on Montessori education and combines generative themed courses, physical courses and parent developmental courses. We offer small class teaching with all-day English immersion, with mixed classes of Chinese & foreign students and deliver a harmonious, supportive learning environment.
There are currently 2 campuses in Suzhou, over 5400 square meters. Classes are equipped with a full set of Montessori teaching aids and excellent facilities. Each kindergarten is equipped with activity rooms, such as the reading room, art room, multi-functional room, sensory room, while outdoor we have natural ecological garden, planting garden, sand pool, water pool, activity field and roller skating field, which sets us apart from other kindergartens in this region, and allows our teachers to really enjoy working here.
Teach English in Suzhou
Suzhou is a renowned cultural, historic and tourist city, located just 25 minutes north of Shanghai on the fast train. The city is located in the southeast of Jiangsu Province, bordering Shanghai on the east. Written historical records indicate that Suzhou has a history of over 4000 years and the city is now best known around China for its unique and plentiful gardens and its many streams and canals, which have earned it the nickname "Venice of the East".
In early years, teahouses and theatres were the most common nightlife activities. With the development of tourism however, there are multiple more fashionable choices in Suzhou now.
Suzhou is widely known in China as being one of the most livable cities in China, with a buzzing expat community and friendly locals. You will not enjoy only good food there, but also cosmopolitan atmosphere of nightlife activities including cafes, bars, teahouses, theatres and cinemas.
Reviews from Current and Previous ESL Teachers
I love my job so much and I love my students. They make me laugh every day and are just so adorable. I was working as a graphic designer before I worked here as an English teacher. Being a designer was what I originally wanted, but right now, working with kids really triggers my passion. I am so grateful for this amazing teaching career. – Sam
Main Responsibilities
-Maximum of 25 teaching hours per week
-Maximum of 40 working hours per week
-Student ages: 3 to 6 years old
-Monday to Friday work schedule with evenings & weekends off (8am to 5pm, including 4 to 5 teaching hours, 2 hours noon break)
-Create fun and engaging English environment for kids
-Support school activities (festival activities or other English activities)
-Participate in our teaching and research workshops
-Be prepared before classes
Compensation
-Monthly salary: 15,000 to 22,000 RMB (depending on experience & qualifications)
-Monthly housing allowance: 2,000 RMB
-Round trip air ticket reimbursement up to 10,000 RMB (5,000 RMB reimbursed at the end of each semester)
-7 days' hotel provided upon arrival plus airport pick-up
-All public holidays (full pay) plus 2 to 4 weeks of summer holidays & 2 to 3 weeks of winter holidays (10 days fully paid, and 3,000 RMB living allowance per month for remanining days)
-Legal Z work visa provided (authentication fee can be reimbursed)
-Health insurance provided
Requirements
-Native English speaker from UK, US, Canada, New Zealand, Australia, Ireland & South Africa
-Bachelor's degree or above
-TEFL certificate 120 hours (No TEFL? We recommend INTESOL) or above or at least 2 years teaching experience required
-Clean criminal record
-Highly responsible team player with hard working ethics
There are no costs whatsoever for the entire recruitment process.
We are looking forward to hearing from you.