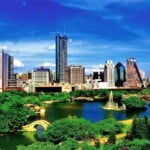 Kindergarten in Shenzhen
Program Highlights
-Excellent salary: starting at 18,000 to 21,000 RMB/month
-No weekend or evening classes
-Around 3 months paid vacation per year
-Western-managed international school
Teach English in Shenzhen
Our international kindergarten is now recruiting committed, energetic and adventurous Foreign Counselor for one age-group of preschoolers (about 23 children per class) to teach and take care of the children. We are a western-managed, fully licensed international school which aims to develop character, cultivate creativity and build up courage in our young learners. We believe that quality education is an excellent foundation to build a child's successful future. In our 2 schools in Shenzhen, we help in developing our students' good habits and cultural awareness, allow them to explore, think critically and be independent, responsible, earnest and compassionate.
Since our learners are still very young, we put strong focus on teaching art and music. We use Houghton Mifflin Curriculum, "Journeys", the world's most recognized English literature to give our learners a thorough English language learning journey. The system we use is very similar to that used in kindergartens in the United States. The roles of foreign teachers are also similar to the roles of a teacher in America. They are to supervise play-time, learning-time, nap-time, lunch-time and many other activities throughout the day. Our teachers cooperate and communicate with each other in developing and innovating our system and curriculum to give our young learners' a better learning experience.
Teach English in Shenzhen
Shenzhen is located in the southern portion of the Guangdong Province, on the eastern shore of the Pearl River Delta. Neighboring the Pearl River Delta and Hong Kong (located just south of Shenzhen), Shenzhen's location gives it a geographical advantage for economic development. In 1980, the first Special Economic Zone of China was built in Shenzhen. From then on, Shenzhen become a highlighted city of China, one known for its rapid economic growth.
Shenzhen is considered as one of the richest cities in the country which offers foreigners a great insight into contemporary China. From a small fishing village 30 years ago, Shenzhen has turned into a city filled with dynamic energy and on its way to becoming a world-class metropolis. Shenzhen is also known for its famous architecture, bars, restaurants, art scenes and shopping areas.
Main Responsibilities
-40-hour work week (Monday to Friday)
-Able to commit to 2 year contract
-Show particular care to individual developmental needs and track progress
-Organize school events to promote our school
-Create a warm, lively, safe environment
-Decorate and maintain classroom according to the monthly theme
-Communicate with parents at scheduled venues (interpreter provided
-Continue to grow professionally and improve quality of service to children, parents
-Innovate through contributions to the Counselor Team to better our school's learning experience
Compensation
-Excellent salary: starting at 18,000 – 21,000 RMB/month
-Work Visa guaranteed
-12-month salary payout
-2.5 days full pay leave/term and full attendance bonus
-Around 3 months paid vacation per year (subject to governmental regulations)
-Annual Raises (amount based on performance review)
-Double pay when working summer camp (if started from beginning of the academic year)
-Continuous professional development
-Resigning bonus (5000 RMB after the first 2-year contract)
-5 year lump sum bonus
-Relocation bonus to hires living outside the people's republic of China up to 8,000 RMB
-Emergency insurance policy provided
-**Special Signing Bonus – 1 month salary
Requirements
-Native English speaker from UK, USA, Canada, Australia or New Zealand
-Bachelor's degree or above in early childhood development, education or related fields
-A minimum of 120 hours TEFL certificate OR 2 years full-time related teaching in early childhood education (No TEFL? – We recommend INTESOL)
-Experienced and able to teach Kindergarten (Pre-K) to Grade 1 level highly preferred
-Desire and able to love, manage and educate young lives
-Hardworking, high energy, and easy-going with adventurous spirit
-Committed to the contract lengths (2 years) and terms, and determined to be professional
There are no costs whatsoever for the entire recruitment process.
We are looking forward to hearing from you.