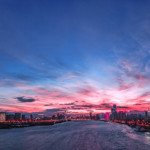 Language School in Fuzhou

Content & Curriculum Developer in Fuzhou
We're seeking to fill the position of ESL Content and Curriculum Developer. This individual will work within our Education Department to create, improve, and develop ESL curriculum and content based on industry best practices and current company material. This is an excellent opportunity for someone who wants to work in an established school with exceptional resources and a supportive team.
Our language school was started in 2003 with the aim of doing ESL differently than other schools in China. Here at our school, the quality of the education we provide matters. We aim to provide students with creative, engaging, and educational lessons that will allow them to develop their language skills in a safe and supportive environment. Due to continued success we now have a total of 6 schools all with modern facilities and cutting edge teaching resources. We offer courses to students of all ages, with the majority being young learners from 7 to 14 years old.
This is a demanding role that requires a high level of skill in a broad range of competencies:
Knowledgeable:
We expect you to know and understand why certain things work in the classroom and what 'good teaching practice' looks like. We create a blend between 'Western' and 'Chinese' styles of teaching to make something original and – we think – more effective. A clear understanding and effort to improve as a teacher is essential. As are staying ahead of current trends, ideas, and methods used in the global ESL world with a view to adapting these fresh and original ideas.
Interaction & Communication:
You'll be working with many different stakeholders; colleagues in the education department, TAs, Teachers, managers, and most importantly parents and their children. It's important you adapt your style in different situations to benefit everyone you interact with at work – always offering support and solutions. Clear and timely communication, both written and oral is essential.
Creative:
Our goal is to create education that appeal to kids; to encourage learning and good results but at the same time embrace a sense of playfulness, imagination, and creativity so that students actually enjoy learning. We don't want to be generic or teach like the school around the corner teaches – but remain independent and explore the possibilities of what we can do in the classroom. We'll need you to create content that can turns heads, that adds a twist to an old idea, and that people like using.
Motivated:
You'll need to be able to prioritize your time, have a desire to work efficiently with a 'get things done' attitude, as well as account for unforeseen challenges that might come your way. Crucially, you'll also need to be able to take critical feedback and respond to it proactively and positively.
"My time at the school is one I will always remember very fondly. Taking the plunge and moving far from home is a challenge to say the least. Particularly for a first-time ESL Teacher this support is absolutely indispensable and, even for those who have taught before or have previously lived in China, not enough can be said about the help, advice and useful services York offer. This support allows you to focus on teaching well." Matt Evans
Fuzhou – The City
Most people haven't heard of Fuzhou, but why would you? After all it's only a city of some 6 million people! Fuzhou is a 'small' Chinese city, and capital of Fujian province. It's coastal, surrounding by mountains and in 2014 was ranked 7th in china for air quality.
History
Fuzhou has existed as a settlement for around 2,000 years and has played an important role in Chinese history- being one of the main trading ports with the West. Much of this history remains in the city, particularly examples of Qing and Ming dynasty architecture.
A temperate climate
Fuzhou has a sub-tropical climate. Temperatures in the summer regularly get over 35C (95F) but never dip below 5C (41F) in the winter.
Old and new
The city is constantly changing with new skyscrapers appearing every week but the heart of the city remains. From tiny little side streets with 10RMB noodle bars, to quirky coffee shops, lush parks and working temples Fuzhou has a lot of character.
Staying connected
5 hours from Shanghai by bullet train (or a 90 minute flight), around the same distance to Hong Kong. We're also a short flight from Taipei and have direct connections to many other major Chinese and Asian cities including Beijing, Seoul, Tokyo, Bangkok and Kuala Lumpur.

Main Responsibilities
• Develop and create innovative and progressive resources and content: curriculum designs, lesson resources, digital content, training materials, based on the long and short term projects of the Education Department
• Work closely with other departments to get a thorough understanding of the existing curriculum and our company's needs and work proactively to fulfil them
• Work independently on your own projects as well as those undertaken by other members of the school's Education Department
• Work with other departments when researching and designing educational materials so that the needs of students, parents, and teachers are well balanced
• To assist in creating and running training workshops for our teachers, TA's, and management staff. Offering support and training on best-practices when using course materials, as well as providing workshops and support in-branch to troubleshoot issues as and when they occur
Compensation
• Excellent salary: 14,000 – 22,000 RMB per month based on qualifications and experience
• Free accommodation: Western style, furnished, near the school OR 1,500 RMB monthly allowance
• Flight allowance: 8,000 RMB
• Performance based bonuses
• Legal 'Z' work visa provided
• School covers the cost of all visa paperwork required
• Total of roughly 6 weeks paid holidays per year including all Chinese public holidays, Christmas, an end of summer break and two weeks private leave
• Free Mandarin Chinese classes
• Airport pick up
• 2 weeks paid training at the start of your contract
• On-going training and academic support
• Promotion opportunities
Requirements
• Knowledge and experience of designing curriculum, lesson plan development, and content creation for young learners in the ESL market
• Bachelor's degree
• TEFL / CELTA certificate
• Native English speaker from UK, USA, Canada, Australia, New Zealand, Ireland
• A minimum of 3 years teaching and training experience with young learners
• Strong verbal and written communication skills
• Good knowledge of young learner educational theory
• Quick learner with a track-record of working independently in a project-driven environment
• Ability to meet deadlines and handle diverse tasks simultaneously using prioritization
• Cultural sensitivity, awareness, and willingness to explore other cultures
• An idea of how to design visually appealing content. Ability to use basic computer programs such as MS Office to a high level is essential. Knowledge of Adobe Creative Cloud and programs such as InDesign and Photoshop is a plus
• Ability to maintain educational principles while satisfying customers
There are no costs whatsoever for the entire recruitment process.
We are looking forward to hearing from you.