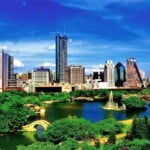 English Language School in Shenzhen
ESL Jobs in Shenzhen
We are now recruiting energetic, passionate young learner English language teachers. Our high academic standards and enjoyable learning environment have established us as a leading language school in Shenzhen. This is an excellent opportunity for someone who wants to work in an established school with exceptional resources and a supportive teaching team.
Our first school was opened in 2003 with the aim of doing ESL differently than other schools in China. The quality of the education we provide matters. We aim to provide students with creative, engaging, and educational lessons that will allow them to develop their language skills in a safe and supportive environment. Due to continued success we now have a total of 10 schools all with modern facilities and cutting edge teaching resources.
We offer courses to students of all ages, with the majority being young learners from 2 to 6 years old. Our commitment to education extends into high-level of support we provide for our teachers and staff. From a supportive community to welcome new teachers, to comprehensive initial training and on-going professional development, we are here to make sure that our teachers have the resources, training, and support to succeed in the classroom.
We have small class sizes so you can build a rapport with your students, every class has a Teaching Assistant to help you and the students and we provide everything you need to create fun and interactive lessons.
We also believe in having a work life balance. On average our teachers are in the classroom for around 18 hours each week. Which leaves you with lots of time for exploring the city and surrounding countryside, learning Chinese, playing sports, going to the gym and immersing yourself in Chinese culture.
"My time at the school is one I will always remember very fondly. Taking the plunge and moving far from home is a challenge to say the least. Particularly for a first-time ESL Teacher this support is absolutely indispensable and, even for those who have taught before or have previously lived in China, not enough can be said about the help, advice and useful services the school offers. This support allows you to focus on teaching well." Matt
Teach English in Shenzhen
Shenzhen is located in the southern portion of the Guangdong Province, on the eastern shore of the Pearl River Delta. Neighboring the Pearl River Delta and Hong Kong (located just south of Shenzhen), Shenzhen's location gives it a geographical advantage for economic development. In 1980, the first Special Economic Zone of China was built in Shenzhen. From then on, Shenzhen become a highlighted city of China, one known for its rapid economic growth.
Shenzhen is considered as one of the richest cities in the country which offers foreigners a great insight into contemporary China. From a small fishing village 30 years ago, Shenzhen has turned into a city filled with dynamic energy and on its way to becoming a world-class metropolis. Shenzhen is also known for its famous architecture, bars, restaurants, art scenes and shopping areas.

Main Responsibilities
• Maximum of 24 hours teaching per week (average of 18 hours per week)
• Working from 8:30am to 5:30pm (with breaks) during Monday to Friday with weekends off
• Teaching and looking after 16 students aged 2 to 6 (with most aged 2-4)
• Assist in the placement testing and interviewing of new students
• Carry out teaching related responsibilities including, but not limited to demonstration classes and conversation clubs
• Attend centre social events
Compensation
• Excellent salary: 17,000 – 19,000 RMB per month
• Extra 250 RMB per month for teachers with a CELTA or CertTESOL (i.e. an in-person course with 6+ hours of observed teaching)
• Housing allowance: 3,500 RMB per month
• 12,000 RMB loan
• 10 days in a hotel on arrival
• Flight reimbursement: 8,000 RMB
• Legal 'Z' work visa provided (school covers the cost of all visa paperwork required)
• All Chinese public holidays + 10 paid personal holidays
• Free Mandarin Chinese classes
• Airport pick up
• 2 weeks paid training at the start of your contract
• On-going professional training, staff caring and academic support
• Promotion opportunities
Requirements
• Bachelor's degree
• Minimum 120 hour TEFL certificate (No TEFL? – We recommend www.GoldStarTeachers.com/INTESOL)
• Native English speaker from UK, USA, Canada, Australia, New Zealand or Ireland
• Clean, criminal background record
• Experience teaching young learners preferred but not required
• Plenty of passion and energy
There are no costs whatsoever for the entire recruitment process.
We are looking forward to hearing from you.