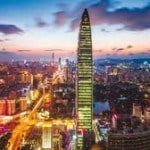 International Kindergarten in Shenzhen
Curriculum Development Manager in Shenzhen
We are currently holding interviews for the position of ESL Curriculum Development Manager at our international kindergarten in Shenzhen. This role involves working within our training team to create, improve, and develop ESL curriculum and content based on industry best practices and current company material. This is an excellent opportunity for someone who wants to work in one of the established international kindergarten with exceptional resources and a supportive team.
Here at our school, the quality of the education we provide matters. We aim to provide students with creative, engaging, and educational lessons that will allow them to develop their language skills in a safe and supportive environment. This is a demanding role that requires a high level of skill in a broad range of competencies. We create a blend between 'Western' and 'Chinese' styles of teaching to make our approach original and more effective.
You'll be working with different colleagues, and it's important you adapt your style in different situations to benefit everyone you interact with, always offering support and solutions. Clear and timely communication, both written and oral is essential. Our goal is to create education that appeal to kids, to encourage learning and exceptional results but at the same time embrace a sense of playfulness, imagination, and creativity so that students actually enjoy learning. We strive to explore the possibilities of what we can do in the classroom, therefore we'll need you to create content that can turns heads, that adds a twist to an old idea, and that people like using.
Teach English in Shenzhen
Shenzhen is located in the southern portion of the Guangdong Province, on the eastern shore of the Pearl River Delta. Neighboring the Pearl River Delta and Hong Kong (located just south of Shenzhen), Shenzhen's location gives it a geographical advantage for economic development. In 1980, the first Special Economic Zone of China was built in Shenzhen. From then on, Shenzhen become a highlighted city of China, one known for its rapid economic growth.
Shenzhen is considered as one of the richest cities in the country which offers foreigners a great insight into contemporary China. From a small fishing village 30 years ago, Shenzhen has turned into a city filled with dynamic energy and on its way to becoming a world-class metropolis. Shenzhen is also known for its famous architecture, bars, restaurants, art scenes and shopping areas.
Main Responsibilities
-Direct and lead the English education product project research and development
-Develop and create innovative and progressive resources and content: curriculum designs, lesson resources, digital content, training materials, based on the long and short term projects of the school
-Work closely with other departments to get a thorough understanding of the existing curriculum and our company's needs and work proactively to fulfil them
-Work independently on your own projects as well as those undertaken by other members of the school's Education Department
-Work with other departments when researching and designing educational materials so that the needs of students, parents, and teachers are well balanced
-To assist in creating and running training workshops for our teachers, TA's, and management staff
-Offering support and training on best-practices when using course materials, as well as providing workshops and support in-branch to troubleshoot issues as and when they occur
Compensation
-Excellent salary: 17,000 to 20,000 RMB per month based on qualifications and experience
-Up to 5 days hotel stay provided upon arrival on provision of receipt
-Monthly housing allowance: 3,000 RMB
-Flight allowance: 6,000 RMB annually
-11 Chinese public holidays (full pay) + average of 1 month summer & winter vacation (half pay) + 1 day Christmas
-Legal 'Z' work visa provided (reimbursement up to 5,000 RMB)
-Health insurance provided
-On-going training and academic support
Requirements
-Bachelor's degree or above required (Early Childhood Education Major preferred)
-TEFL / CELTA certificate preferred
-Native English speaker from UK, USA, Canada, Australia, New Zealand, Ireland & South Africa
-Minimum of 2 years of full time teaching experience with young learners
-Knowledge and experience of designing curriculum, lesson plan development, and content creation for young learners in the ESL market
-Strong verbal and written communication skills
-Good knowledge of young learner educational theory
-Quick learner with a track-record of working independently in a project-driven environment
-Cultural sensitivity, awareness, and willingness to explore other cultures
-An idea of how to design visually appealing content. Ability to use basic computer programs such as MS Office to a high level is essential
-Ability to maintain educational principles while satisfying customers
There are no costs whatsoever for the entire recruitment process.
We are looking forward to hearing from you.