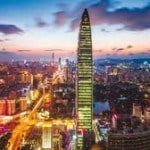 International Kindergarten in Shenzhen
Program Highlights
-Excellent salary: starting at 30,000 RMB per month
-8 weeks paid holidays annually plus all national holidays
-Western-managed international school
-Lead our team and explore around the exciting city of Shenzhen
ESL Jobs in Shenzhen
We are now recruiting a committed, experienced and visionary Club Director. The Club Director is responsible for the overall success of one of our sites in Shenzhen. He or she executes the vision of a high-quality, innovative yet standardized, and sustainable early childhood educational program through hiring, training, and mentoring capable teachers. You will be a leader who takes full responsibility for strategic planning, enrollment, educational services, keeping within budgets, safety, and the facility.
We are a western-managed, fully licensed international school which aims to develop character, cultivate creativity and build courage in our young learners. We believe that quality education is an excellent foundation to build a child's successful future. In our 2 schools in Shenzhen, we strive to develop our students' good habits and cultural awareness, and allow them to explore, think critically and be independent, responsible, earnest and compassionate.
Since our learners are still very young, we put strong focus on teaching art and music. We use the Houghton Mifflin curriculum, "Journeys", the world's most recognized English literature to give our learners a thorough English language learning journey. The system we use is very similar to that used in kindergartens in the United States.
Teach English in Shenzhen
Shenzhen is located in the southern portion of the Guangdong Province, on the eastern shore of the Pearl River Delta. Neighboring the Pearl River Delta and Hong Kong (located just south of Shenzhen), Shenzhen's location gives it a geographical advantage for economic development. In 1980, the first Special Economic Zone of China was built in Shenzhen. From then on, Shenzhen become a highlighted city of China, one known for its rapid economic growth.
Shenzhen is considered as one of the richest cities in the country which offers foreigners a great insight into contemporary China. From a small fishing village 30 years ago, Shenzhen has turned into a city filled with dynamic energy and on its way to becoming a world-class metropolis. Shenzhen is also known for its famous architecture, bars, restaurants, art scenes and shopping areas.
Main Responsibilities
-Monday to Friday work schedule (average of 8 hours per day)
-Able to commit to 2 year contract
-Client-facing & high customer satisfaction ability
-Internal administration, train, lead all the staffs, and work flows to allow flawless operation, future programs, and expansion
-Sustainable Enrollment and Profitability
-Government compliance auditor/trainer
-Curriculum evaluation and creation
Compensation
-Excellent monthly salary: starting at 30,000 RMB (negotiable depending on qualifications and teaching ability)
-11 days national holiday, 5 days paid personal leave plus 8 weeks paid holidays
-Assistance finding accommodation
-Legal 'Z' work visa
-Insurance provided
Requirements
-BA or Masters Degree in Administration or Educational field
-5+ years of administration experience in children-related fields preferred
-Passionate about leading our team to serve children and families
-Highly ethical, disciplined, efficient, and clear-minded solution provider
-Flexible, teachable, and can work with anyone
-Effective leader who trains and monitors people and delegates tasks to cover all aspects of our operations including weekends, Summer Camp and nap time when the he/she may not be present
-Understanding and appreciate local culture and language to resolve conflicts and building long-term trust between our school and parents
There are no costs whatsoever for the entire recruitment process.
We are looking forward to hearing from you.