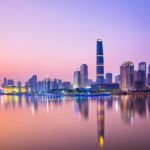 Language school in Guangzhou
The Job
We are looking for curriculum designers to join our professional and supportive team at our headquarter located in Guangzhou, China. The designers will create innovative curricula delivered via unique learning methods designed to inspire curiosity and accelerate learning for children. Our mission is based on transforming each child's unique gifts beyond just academic progress, but also to achieve mastery of life skills by aiding and preparing children to be able to reach their full potential and achieve success in life.
As a curriculum designer you will develop the framework and high-quality materials for primary school students that are in line with the official Education Bureau standards of educational objectives. Designers will additionally be involved with creating strategies for assessment, training process development, teacher tutorial and support mechanisms among other related duties.
The School
Our International Institute of Education founded in 2011, is committed to providing our young learners with FT taught English classes. Currently, we offer quality international education to tens of thousands of students in 15 provinces, 22 cities and 97 directly-operated campuses all across China. As of 2018, we have nearly 600 foreign teachers in our family of schools. In addition to honors such as "Most Influential Foreign Language Training Organization", "Most Influential Educational Group" and "2017 Famous Children's English Education Brand", we were also granted "TEFL in China" foreign teacher training qualifications by the State Administration of Foreign Experts Affairs in 2018.
In order to inspire a global outlook in students' minds, through giving them access to language learning resources here in China, we strive to keep up with the most advanced pedagogical concepts from around the world. In early 2017, the "iBilingual International Elite Growth Project", co-developed with numerous domestic and foreign experts, was launched after an almost year-long preparation. It is a program aimed at enhancing students' international competitiveness, by cultivating their 5C capabilities (Cross-cultural understanding, Communication, Creativity, Critical thinking and Collaboration). Based on the globally sophisticated Macmillan graded curriculum system, it offers a more diversified course structure that, in addition to the language arts classes and PBL (phenomenon-based learning), and also includes family education and social responsibility goals.
Guangzhou – The City
Guangzhou, a prosperous metropolis full of vigor, is the capital city of Guangdong province located along the south coastline of China. Being an excellent port on the Pearl River navigable to the South China Sea, and with fast accessibility to Hong Kong and Macau, Guangzhou serves as the political, economic, scientific, educational and cultural center in the Guangdong area.
Guangzhou is considered as the paradise for food-lovers in south China. Guangzhou dish represents well the Guangdong cuisine, which is one among the most famous eight cuisines in China. A large amount of time-honored restaurants and quality new restaurants serve various authentic Guangzhou dishes, snacks, and drinks. Explore a modern, developing city with an exciting mix of restaurants, bars, shopping as well as traditional elements.

Main Responsibilities
-Design and develop curriculum frameworks and materials for primary school students
-Monday to Friday 9 am to 6 pm (lunch break included), 40 hour work week contract
-Create high-quality learning experience strategies for students
-Ensure curriculum is aligned to official Education Bureau standards and meet specified educational objectives
-Design assessment and evaluation strategies to make learning and performance outcomes achievable
-Oversee the production of learning & teaching materials to ensure they are valid, updated and relevant
-Plan and deliver curriculum training, evaluation processes and implementation to teaching staff
-Support the successful implementation of curricula by providing training, coaching, and other staff development initiatives
-Keep abreast of current trends and best practices in pedagogy and represent the organization as a subject and learning expert
-Be able to develop PowerPoint presentations or lessons with a high degree of aesthetic quality
-Be an active member of various product-driven focus groups, mind mapping, brainstorming and development of inter-departmental micro-projects
-Ability to design and develop methodological compendiums and gamification of traditional teaching content
-Development of teacher driven tutorials and product support mechanisms to ensure ease of product application
Compensation
-Highly competitive salary: base of 20,000 RMB (approx. 2,800 USD) per month and above dependent of qualifications and experiences
-Housing allowance of 4,000 RMB per month
-Flight reimbursement on contract completion: 6,000 RMB (approx. 850 USD)
-Relocation allowance
-Quarterly and annual Bonuses
-Airport pick up and hotel accommodation upon arrival
-Maternity and nursing leave
-3 weeks paid annual leave
-Legal work permit & work visa
-Medical and accident insurance provided
-On-going professional training and development
-Career promotion opportunities
-Family benefits include: medical & accident insurance for foreign spouse and lineal relatives in China, housing allowance for children and local education allowance for children
Requirements
-Bachelor's degree in education
-Native English speakers and passport holders from UK, USA, Canada, Australia, New Zealand, Ireland and South Africa (Due to visa application requirements)
-Post-qualification experience in teaching primary education English
-Curriculum development experience
-Good interpersonal skills, detail-oriented, creative and passionate in education
-TEFL certificate 120 hours preferred (No TEFL? – We recommend INTESOL www.GoldStarTeachers.com/INTESOL)
-Passionate about teaching pedagogy and research in English education, with related output in past experiences
-Have analytical problem solving skills, good communication and teamwork, and a proactive working attitude