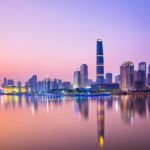 English Language School in Guangzhou
Program Highlights
-Excellent salary: 25,000 to 30,000 RMB per month
-Based in the prosperous city of Guangzhou and collaborate with teams in Singapore, Hong Kong and other regions in China
-Great management & teacher training position to enrich your career
ESL Jobs in Guangzhou
We are now recruiting a Teacher Training and Recruitment Manager to be based in Guangzhou, China. Founded in 2000 by Educational Psychologists and headquartered in Singapore with currently over 80 learning centers across 9 countries, we are one of the leading English education brands in Asia. Through our unique teaching methodology, we ensure that our students develop long-term excellence in all four skills – reading, writing, speaking and listening.
You will mainly be working with our China team and occasionally assist our Hong Kong team if required. Training would most likely be held in Singapore before deployment to China. This role requires you to prepare and deliver the formal pre-deployment training programme to all of our new teachers, and source, recruit, & train ideal profile teachers to enable our school to carry out our mission and vision to be the premium education brand in China.
We offer a full range of English Literacy courses for students aged 2.5 – 16 years old with small class sizes. Through these scientifically designed courses students develop their English linguistic abilities in a natural way, similar to the manner in which we learn our first language. This style of learning has proven to be highly effective. We have a strong commitment to excellence and many years have been spent on developing our own curriculum and syllabus. You will be collaborating with our Singapore HQ Academic Team, developing and delivering additional teacher training for curriculum updates and other programmes.
Teach English in Guangzhou
Guangzhou, a prosperous metropolis full of vigor, is the capital city of Guangdong province located along the south coastline of China. Being an excellent port on the Pearl River navigable to the South China Sea, and with fast accessibility to Hong Kong and Macau, Guangzhou serves as the political, economic, scientific, educational and cultural center in the Guangdong area.
Guangzhou is considered as the paradise for food-lovers in south China. Guangzhou dish represents well the Guangdong cuisine, which is one among the most famous eight cuisines in China. A large amount of time-honored restaurants and quality new restaurants serve various authentic Guangzhou dishes, snacks, and drinks. Explore a modern, developing city with an exciting mix of restaurants, bars, shopping as well as tradition elements.

Main Responsibilities
-Maximum of 45 working hours per week (depends on work load every week)
-2 year contract
-Work with the China Academic Manager and Senior Management Team to ensure that we deliver all programmes to a consistently high standard, thus maximising student growth and retention
-Source, recruit, & train ideal profile teachers
-Develop and actively manage strategic relationships with recruitment agencies and
recruitment partners
-Interview suitably experienced and qualified candidates
-Discuss proposed new teachers with either Academic Manager or franchise schools
-Prepare and deliver the formal pre-deployment training programme to all of our new teachers
-Conduct post training follow up, formal teaching observation and feedback session and evaluation in accordance with our professional development policy
-Collaborate with the Singapore HQ Academic Team, develop and deliver additional teacher training for curriculum updates and other programmes
Compensation
-Excellent salary: 25,000 to 30,000 RMB gross per month (depending on qualifications and experience)
-Annual bonus based on KPI's and company performance
-Free arrival accommodation provided during onboarding and training in Singapore
-Airport pick-up upon arrival to Singapore for training and in Guangzhou to start work
-14 days accommodation provided upon arrival in Guangzhou
-All national holidays plus 14 days personal holidays annually
-Medical leave 8 days per year
-Legal 'Z' work visa provided
-Health insurance provided
-Professional in-depth training provided most likely at headquarters in Singapore during the first 7 days (1,500 RMB paid) plus periodic curriculum update training
Requirements
-Bachelor's degree required
-CELTA or DELTA is required
-TEFL certificate with 120 hours or above required (No TEFL? – We recommend INTESOL www.GoldStarTeachers.com/INTESOL TEFL Certificate)
-Native English speaker from USA, UK, Canada, Australia, New Zealand and Ireland
-At least 5 years of relevant work experience required (experience in the education sector as a teacher, trainer or recruiter would be preferred)
-Managerial/recruitment and HR/training experience required
-Ability to develop and manage a teacher network throughout China
-Ability to present to large groups with confidence
-Proactive with good organization and planning skills
-Ability to work independently and research for required business information
-Negotiation and conflict resolution skills
There are no costs whatsoever for the entire recruitment process.
We are looking forward to hearing from you.