Fully Accredited TEFL Courses with ALAP
INTESOL Worldwide issues its awards through ALAP (Awarding Language Acquisition for Professionals), a specialist ESL awarding organisation based in the United Kingdom. All of the INTESOL courses have attained full accreditation from ALAP. You can read more details on the rigorous Standards of Accreditation set by ALAP.
What this means is that the online TEFL / TESOL courses run by INTESOL have external checks carried out on them to ensure the course materials and how they are administered meet their high standard. Bi-annual inspections are carried out to make sure this standard is maintained and you can be confident that you are receiving a worthwhile qualification that will be recognized by employers around the world.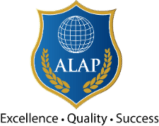 "The world of education is often marred by questionable certification of academic courses. In order to differentiate between genuine, professional qualifications and those that are produced for commercial gain, it is essential that education companies provide accredited certification. Accreditation is the recognition by an external body that a course and/or training provider has met a certain set of standards and best practice. I am delighted to be associated with INTESOL as the company is an outstanding example of this best practice."
25 years of teacher training
Not all accreditation organisations are the same. ALAP stands out as a superior accreditor for a number of reasons. Firstly, ALAP specialises in the ESL / TEFL industry, inspecting course materials and content to ensure it reaches a high standard. Additionally, at the core of ALAP is the Academic Panel, experts in the field, who oversee the accreditation process and assure academic quality. You can view details on the Academic Panel here. If you would like to contact ALAP you can do so through their contact page.
Exceptional course tutors
What this means for you, the student:
-You will receive the highest quality of training
-English schools worldwide will view you qualification above non accredited courses
-You will receive 2 certificates one from INTESOL and another from ALAP (with a hologram)
-You will also receive a course transcript from ALAP detailing the course contents and hours studied
-The course provider is inspected bi-annually to ensure high standards
-Your course provider is invested in quality and will provide an excellent service
-You will have more options when it comes to obtaining employment as an English teacher
Set yourself up for success
You will find other companies that run shorter and cheaper TESOL courses. It is strongly advised that you do not just go for the cheapest, shortest TESOL course out there. Not only is the course content likely to be poor and the support offered very limited, but employers do not value shorter, unaccredited courses which will make securing a teaching job with a good school a lot harder.
Also, it is vitally important that you are well trained and feel confident teaching a class of students. Moving to a new country and starting your first teaching job can be quite daunting. Making sure you take a well recognised TESOL course goes a long way to ensuring you enjoy your time teaching English and teach your classes well.
We take accreditation seriously and so should you!
140
HOUR COURSE
+ Teaching Practice
190
HOUR COURSE
+ Teaching Practice
220
HOUR COURSE
+ Teaching Practice